LaCie Safe 250GB biometric hard drive
Fingerprint security
World Exclusive Review You don't have to have filled you hard drive with scandalous shots of your holiday to the fleshpots of the Far East to want to keep your files safe from prying eyes. Depending on your operating system, you can use built-in tools or third-party apps to protect the information on your computer, but what about back-ups and live data on external media? What if some crafty Herbert makes off with that 120GB hard drive all your business plans are on?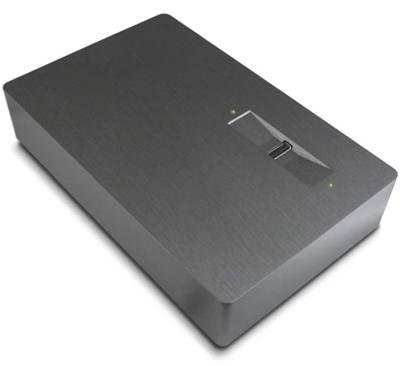 LaCie's answer is simple: buy a biometric drive. The storage specialist has been offering a pair of mobile products with integrated fingerprint scanners for a while now. One of them even automatically encrypts the data stored on it. But today it has begun shipping a desktop version - minus the encryption feature, alas - for buyers who need the speed and capacity mobile drives can't yet offer.
Dubbed simply the Safe, the hard drive is available in a range of capacities up to 500GB. I tested the 250GB model.
Installation is straightforward: connect the drive to a spare USB port and run the bundled software. First time round, LaCie's Hard Drive Configuration code will ask you to create an administrator account and register two fingerprints for identification. With that done, you can add up to four further users: extra administrators, people who can read and write data to and from the drive, and others who can only read files. Administrators have the ability to add and remove users, but any user with write rights can reformat and/or repartition the drive. Every extra user has to register two fingerprint scans.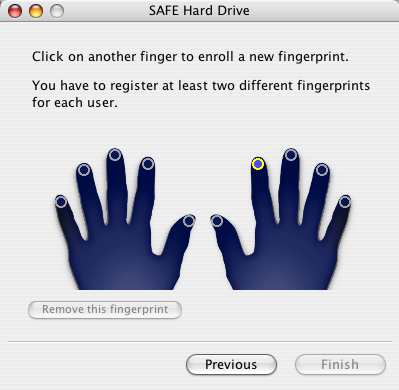 Each account is stored on the drive itself, allowing you to carry the unit to another machine and, after installing the configuration software, access the Safe's contents. All it lacks is a read-only partition to save you having to carry the CD around. I hooked the drive up to my MacBook Pro first then established three user accounts, one of each type. You can eject the drive in the usual way. Alternatively, tapping the fingerprint sensor locks the drive after a five-second cooling off period - a dialogue box pops up with a Cancel button - and automatically unmounts the drive.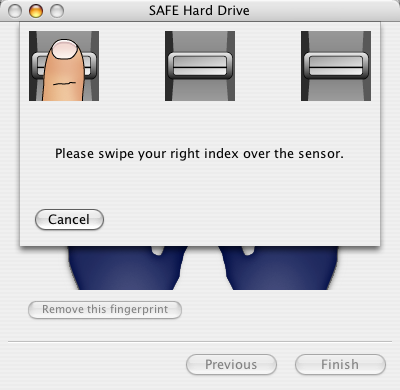 Reconnecting the drive or touching the sensor pops up a second dialogue that first prompts you to swipe your fingerprint then takes you either to the user configuration window or just unlocks the drive for use. If you choose the former, you'll have to re-scan your fingerprint to unlock the drive afterwards - the drive doesn't mount while you're modifying or viewing the configuration information.