This article is more than 1 year old
Sony unveils 1080p HD LCD TV, 80GB twin-tuner DVR
Freeview bonanza
Sony has launched a slimline DVR that allows viewers to watch one Freeview channel while recording another on the box's built-in 80GB hard drive. The consumer electronics giant also introduced the first of its 1080p HD Ready Bravia LCD TVs into the UK.
The SVR-S500 ships with an easy-to-use on-screen user interface, Sony said, the better to help punters pick programmes to record from the unit's eight-day electronic programme guide (EPG). The box has all the usual DVR features: pause or rewind live telly, and play one recording while another is being stored on the hard drive.

The Bravia KDL-46X2000U, meanwhile, is a 46in 1,920 x 1,080 panel sporting a "wide-spectrum" backlight delivering a contrast ratio of 1300:1, and an array of electronic image enhancement technology to "create a picture that seems almost alive". Apparently.
The display has a pair of HDMI inputs, which is handy for anyone planning to buy a 60GB PlayStation 3. It's also got Dolby Pro Logic II Virtual Surround sound circuitry and an all-digital amplifier feeding a set of integrated speakers. There's a built-in Freeview digital TV tuner.
For older devices, the screen has three SCART connectors and two component-video ports. And there's a HD15 jack to hook up a computer.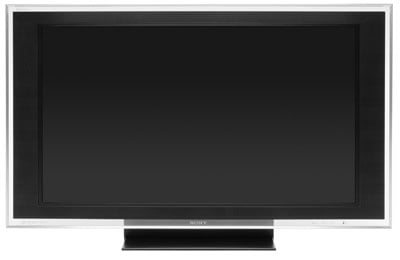 Sony didn't say when the Bravia will ship or how much it's likely to cost, but the SVR-S500's available now for around £235. ®
Read out HD TV UK buyers' guide here