IT girls calendar provokes unholy e-rumpus
Screen Goddess site hit by DoS attack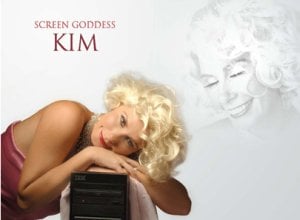 An unholy rumpus has broken out over a "controversial calendar showcasing the sexy side of women who work in the IT sector", The Age reports.
The Screen Goddess 2006 collection features IT gals flaunting themselves in various movie-related poses, such as that of Kim Sheree, CEO of ICT Ecosystems, seen here as Marilyn Monroe. It's the brainchild of IT professional Sonja Bernhardt who wanted to "parody glamorous female movie stars in a bid to smash the perception of the geeky technologist" while raising cash for "non-profit groups running initiatives to encourage women to pursue careers in IT".
Fair enough, we reckon. However, not everyone is entirely happy with the project, as demonstrated by a targeted, US-based denial-of-service attack last Friday which almost brought the Screen Goddess website to its knees. A "rattled" Bernhardt said: "We welcome debate on the calendar and the issues it raises, but our opponents should allow people to decide for themselves in an open forum, not just try to knock us down."
The apparent focus of ire is the American Beauty-style cover, featuring helpdesk manager Sonja Breeze whose modesty is protected by strategically-placed rose petals. This outrage provoked the Australian Computer Society (ACS) to withdraw its sponsorship of the calendar, despite agreeing there is a "growing shortage of women in IT".
ACS-Women director, Su Spencer, declared: "We agreed to become a sponsor on the basis that the calendar was presented as a bit of fun and awareness raising. We were not expecting the American Beauty front cover and there were a few other shots that we didn't think were appropriate for women or a professional society, so we decided to withdraw our sponsorship."
Bernhardt hit back with: "One of messages we are trying to get across is that we are not a brain disembodied from our body. Through the use of parody we wanted to present the image of a fully functioning person with an amazing career and brain. We shouldn't need to deny our femininity to be accepted."
Queensland Minister for Information Technology Policy, Chris Cummins, last week backed Screen Goddess by insisting that "changing what the general public thinks of the ICT industry is a key issue". He added: "The IT Screen Goddess calendar is one initiative that will start that work. Each of the models has contributed a biography that details their career in IT, and some of the experiences they've had; these are the kind of positive stories we need to get out there."
On the front line, meanwhile, Marilyn Monroe, aka Kim Sheree, said she received "a lot of email from women around the world who were very supportive of the venture", noting: "We are now taking overwhelming number of requests from women who want to be in the calendar next year."
Sheree is unapologetic about her participation in the project. She insisted: "I feel very strongly about why we're doing it. If you knew us, you would know how much time we devote to this cause." ®