Leadtek will next month ship a pair of AGP graphics cards based on Nvidia's GeForce 7600 family of GPUs, pitching the parts at PC users who have yet to make the transition to PCI Express but still want high-speed graphics.
The A7600 GT TDH is fitted with a GeForce 7600 GT chip and 256MB of GDDR 3 memory connected across a 128-bit bus. The core is clocked to 560MHz, Leadtek said, though it did not disclose the memory speed.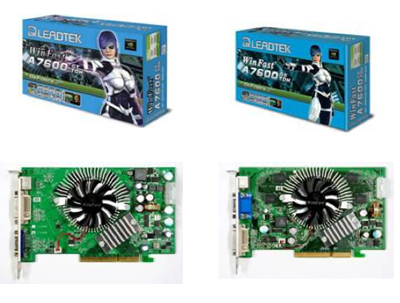 The A7600 GS TDH is kitted out with a 7600 GS clocked at 400MHz, and the memory is DDR 2, though again its operating on a 128-bit bus and there's 256MB of it. Both cards have AGP 8x connectors, dual-link DVI-I ports, HDTV-out and a VGA connector for older monitors.
The two cards feature Nvidia's PureVideo MPEG 2, H.264, WMV and WMV HD hardware-accelerated decoding. Leadtek said the cards were built to support Windows Vista.
The 7600 GT-based board is set to ship early August for around £125. The £85 7600 GS card will ship in the middle of the month, Leadtek said. ®
Related review