Concern about rising skin cancer rates has prompted Canadian swimwear company Solestrom to design a bikini with an in-built UV meter.
Every year around 8,000 cases of malignant melanoma are diagnosed in the UK, causing almost 1,800 deaths each year, according to Cancer Research UK.
"There's so much concern about sun exposure and skin cancer that we saw the demand and designed something to be safe for the wearer," Solestrom spokeswoman Emily Garassa told Reuters.
The "Smart-Swim Bikini", due to go on sale next month, measures UV intensity and displays it on scale from 0 to 20. Anything above 11 is considered "extreme", and a reading between three and five a "moderate" level of risk.
When the reading gets too high, the bikini alerts the wearer with a beeping alarm, warning the sunworshipper to cover up.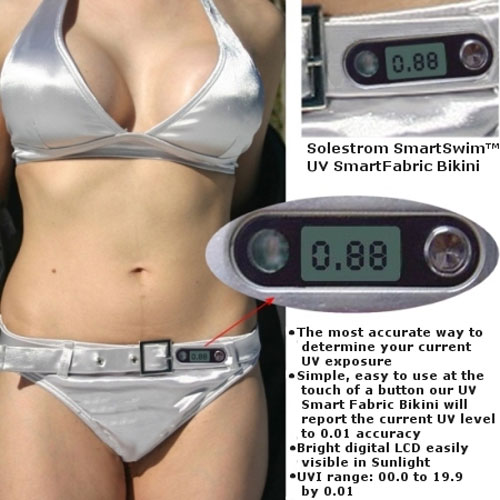 This Star Trek-reminiscent lycra offering is currently under introductory offer for US$130. Normal retail price will be a whopping US$190.
For the more fashion-conscious, "in an ongoing quest to merge fashion and technology", as the company's website puts it, Solestrom has an alternate range with beads that change colour according to UV levels (pictured below).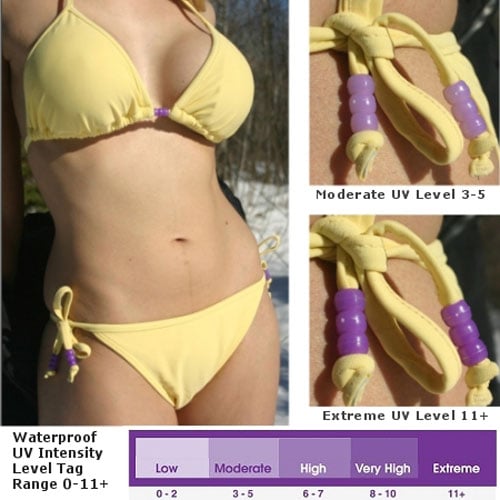 According to Reuters, the Smart-Swim Bikini's launch coincides with the 60th anniversary of the itsy witsy beachwear. ®