This article is more than 1 year old
London borough develops own microclimate
Islington enjoys balmy day as city endures downpour
Those Islington residents that were sitting on their balconies enjoying the 27 degree sunshine while having a quiet post-work pint yesterday afternoon, would have been bamboozled to hear colleagues today speaking of taking shelter to escape the terrible rain and hail.
So we at Vulture Central went to the fount of all weather knowledge and found the answer to the confusing climatic conditions.
It's simple. Islington has its own microclimate.
As reader Andy explains:
Logged onto BBC weather last night to check the forecast. It told me it was going to be hammering it down in London today, which was a bit depressing. I then put in my postcode largely coz I was bored and was shown the forecast for Islington. 3 degrees cooler, and sunny skies! Excellent!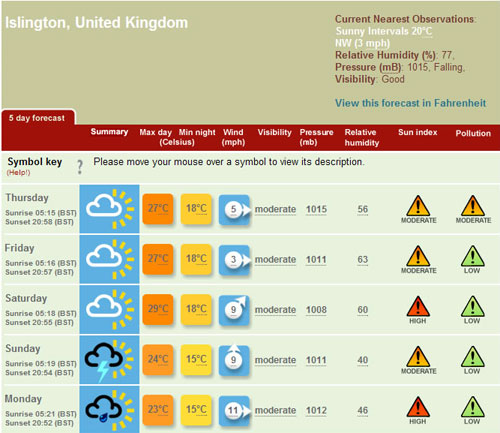 The Islington microclimate is clearly demonstrated above, and the rest of London forecast, below.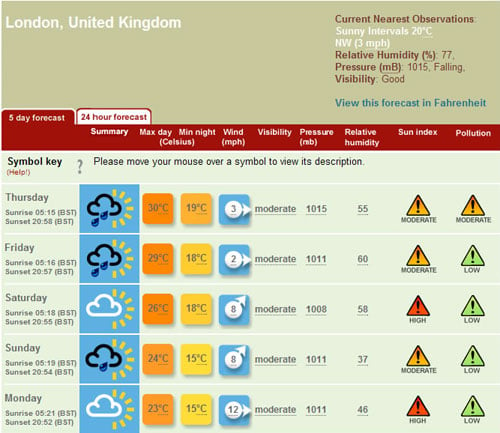 It's been a bad week for the BBC weather centre. As reader Kirk kindly pointed out, the troubled weather forecaster is having difficulties figuring out how many hours are in a 24-hour forecast. Today's 24-hour prediction for Cardiff showed only from 22:00 Thursday to 19:00 on Friday.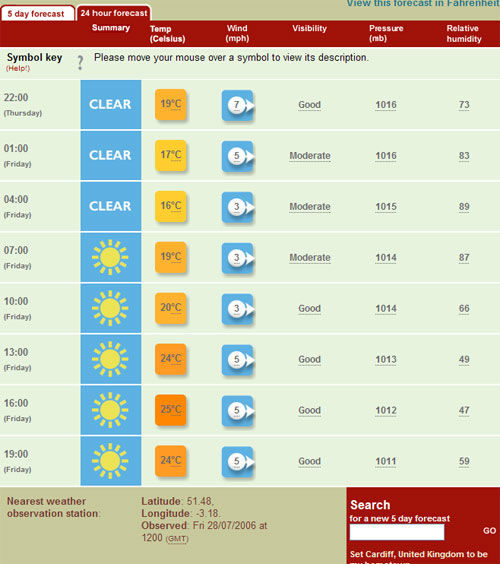 Oh dear. Reader Andy sums it up nicely:
What the hell is going on with the BBC weather site recently? 188 degrees in Leeds... no sunrise in Bristol... why don't they shut it down if it's giving incorrect information?
Because then we'd have nothing to do on Friday afternoon. ®
Bootnote
Thanks to readers Andy and Kirk for the tip offs.