Review HTC, the company behind the T-Mobile MDA, O2 XDA and Orange SPV mobile phones, not to mention a host of others offered by less well-known vendors, has broken away from its white label roots to offer its phones without operator customisation. The TyTN is one of the first...
It's a Windows Mobile 5.0 device that features Wi-Fi, 3G, tri-band GSM/GPRS/EDGE and Bluetooth connctivity alongside a QWERTY keyboard and 2.8in 320 x 240 touchscreen display. The new model also includes two digital cameras, one for for video calling, the other a two megapixel job with macro mode.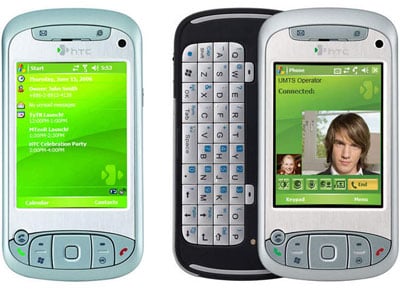 Available in black and silver, the TyTN looks like T-Mobile MDA Vario, but features the specs of the operator's MDA Pro handset.
And its here that the TyTn shows it's winning hand, by melding the two models together. Now you have the functionality of 3G - it's also ready for HSPDA, the 3G-based data download speed booster. If you're only ever going to be typing long emails or checking the odd spreadsheet then this certainly saves having to drag the laptop with your on your journey.
In the real world, the TyTN is not only very easy to use but also comes with a number of nifty features. Examples include automatic rotation of the screen when you change from portrait to landscape to use the keyboard, and dedicated buttons for virtually everything from using the phone's web browser (Internet Explorer) to making a video call or checking your connectivity status.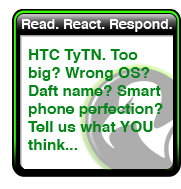 Slide the unit open and it reveals that QWERTY keyboard. Although not the entire width of the unit - the slider's runners have to go somewhere - the keyboard is easy to use with plenty of shortcuts available via extra function keys. Keys are rounded enough to be separate from each other, and certainly bigger than those found on the Treo or a BlackBerry. In short, as long as you can type with your thumbs you should be fine.
The speed of the unit is fairly zippy - it runs a 400MHz processor - and certainly feels better than the company's previous MDA outing.
The TyTN offers 128MB ROM and 64MB RAM and you can expand its memory further via MicroSD cards. It's a shame a standard SD card slot wasn't available - for viewing images straight out of a camera for example - but then the TyTN packs so much into such a small unit (11.3 x 5.8 x 2.2cm) that this omission can be forgiven.
Verdict
Where the TyTN succeeds is in its connectivity options. The inclusion of Wi-Fi, EGDE, 3G and even the new HSPDA standard means there is bound to be some connection on offer wherever you are in the world. Combine this with an easy to use keyboard, a large screen and Microsoft Windows Mobile 5.0 - with push email support - and we struggle to find faults with the device.
If you're a road warrior and fed up of lugging your laptop with you wherever you go, this might just be the mobile for you.

HTC TyTN 'super 3G' smart phone
The ideal mobile wireless communicator?