BootCamp
Apple's BootCamp software doesn't work the same way as Parallels Desktop. While Parallels lets you flip in and out of the guest operating system at will, BootCamp forces you to start up in Windows XP or Mac OS X. Want to switch back? Then restart again and select your original OS.
The upside is that Windows gets full access to the system's resources, so there's no performance hit, and you're free to install vendor-provided drivers for the GPU and so on. Forcing a restart means each OS runs more cleanly - there's no intermediate code juggling access to resources. All your memory is devoted to each OS, so there's no need to worry about making sure each gets sufficient to do what it needs to do.
The price you pay for that is the need to tweak the partitioning of your hard drive and the risk of data loss that, however small, this process invites. And since BootCamp won't be finalised until Mac OS X 10.5 ships, you'll be running pre-release test software, so you're open to whatever bugs Apple's developers have yet to fix. If something does go wrong, you're on your own. As I mentioned before, BootCamp also officially limits you to Windows XP.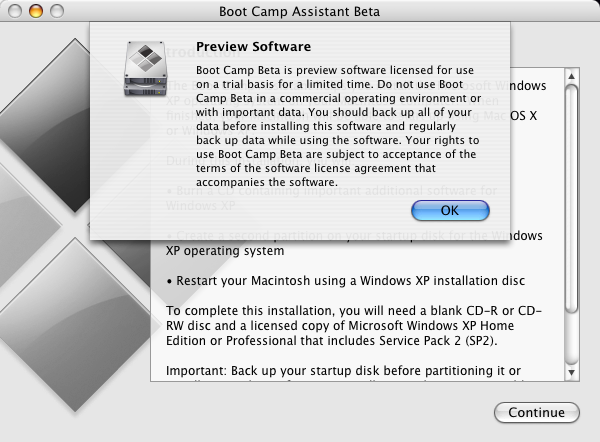 But nothing ventured, nothing gained, so into the melee I dived. Tweaking hard drives is always a scary process, so make sure you back up all your data first. Reports from folk who've tried it already suggest that it's a good idea to verify your hard drive and repair file-access permissions before running BootCamp. Both tasks can be achieved by running Mac OS X's own Disk Utility, ideally by booting from a Mac OS X installer CD or DVD first. I also left the machine running unused for half an hour or so to allow the OS' auto-defragmentation code to do its stuff.
You'll also need to make sure you're running Mac OS X 10.4.6 at least, and that you have the latest firmware installed. Software Update may not show it, but you can download the updater from Apple's support website.