The XP installation process ran smoothly. It correctly identified the 8GB partition I had BootCamp Assistant create as its C: drive, which I formatted as an NTFS volume as XP installer suggested. The first post-installation reboot left me with a blank screen after the initial XP start-up screen, so I forced a shutdown and restarted manually. This time I got the correct Set-up screen and was able to complete the XP installation. Incidentally, the video glitch seems an issue Apple needs to address. Even with the ATI drivers installed courtesy of the CD BootCamp makes, there's a distinct pause between the initial XP screen and the Welcome image.
Installing the BootCamp drivers CD went well, too. The process has a habit of triggering Windows' hardware detection system - or this happens anyway - but I ignored it completely, only clicking on windows warning about unqualified drivers, as per the BootCamp instruction manual. As Apple admits, there's no support for the integrated iSight camera or for some of the more advanced features of the trackpad, though it works.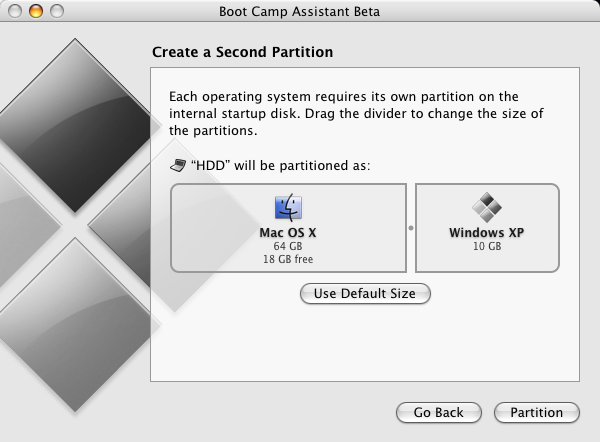 Running XP afterward was a joy. With access to all the MacBook Pro's memory and both processor cores, performance was nippy and generated a PCMark 05 rating of 3,369. Unlike Parallels Desktop, this XP install could run the full range of PCMark tests, including the 3D graphics benchmarks. For comparison, BootCamp's CPU score was 4,061 - 71.2 per cent faster than PD's scored 2,891.
3DMark 06 at 1,280 x 768 yielded 1,112, which is nothing to write home about even for a notebook. Then again, Apple's clocked the GPU to around 310MHz - roughly two-thirds of what the Radeon Mobility X1600 can go to.
The only problem I encountered was a Blue Screen of Death immediately after installing Skype 2.5, but I've since run a range of apps without any such hiccups. The first time I rebooted back into Mac OS X, I experienced an odd glitch: after an hour or so's use, a couple of files newly placed on the desktop disappeared. But they reappeared after a reboot and I've not had a re-occurrence of the issue since. A Disk Utility check revealed no problems with my Mac OS X partition. Occasionally after a Windows session, Mac OS X loses track of British Summer Time and defaults to GMT. This is irritating, but the sort of thing you expect with beta software.