Comparison
It's tempting to present this review as a head-to-head, but while BootCamp and Parallels Desktop do the same thing - allow you to run Windows XP in addition to Mac OS X - they're sufficiently different to appeal to different types of user. Which you pick should depend on what kind of software you want to run.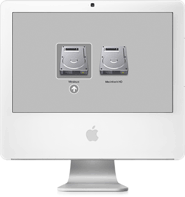 PD first. This is ideal for anyone who wants to run one or two mainstream Windows apps, either because you can't get Mac OS X versions or because they're tools your business has been using for years and you've simply got too much data tied up in them to jump ship. PD has a minimal impact on your system, making it as easy to dispose of as any other Mac application. Mac OS X's inherent stability means Windows hiccups aren't going to affect you any more than a Safari crash might.
Yes, there are performance limitations, but I found them broadly acceptable. I hope Parallels works on fixing the hardware support for iSight, Bluetooth and a broader array of USB devices. A better graphics driver, to allow 3D acceleration would be nice, but isn't essential.
Chances are if you need 3D acceleration, you're going to want BootCamp rather than PD anyway. BootCamp delivers the full hardware to Windows - all the memory, primarily - and with a decent set of drivers - everything but the iSight camera, it seems. This is the solution for gamers, graphics professionals and anyone who expects Windows XP to run as if it were running on a second machine. Unlike PD, BootCamp is for folk who want to run XP or OS X at any given time, not XP and OS X. That largely means anyone who wants to dedicate as many processor cycles as possible to a specific task, or you expect to spend a significant time running just one OS.
The downside, for now, is that BootCamp isn't ready for mission-critical apps, so PD may make for a temporary solution until BootCamp 1.0 ships with Mac OS X 10.5. PD is also beholden to Mac OS X's power management system, so it's fine - performance and hard disk thrashing notwithstanding - to run on an untethered notebook. BootCamp's drivers are less sophisticated, and notebook users should expect shorter runtime on battery than they might get under Mac OS X - the graphics chip will probably run faster, for example.
BootCamp is free, of course, but PD's $80 price tag is extremely good value for such an easy to use, Mac OS X-friendly and - crucially - safe tool. Frankly, if after reading the above, you reckon PD is the best solution, you're better off buying the software than try to use BootCamp to save money.
PD has the most potential, however. BootCamp offers the best performance, for now. Apple needs to clarify its support for Intel's Virtualisation Technology (VT), which requires more than just a VT-enable processor and software like PD to run. Apple's firmware has to support it to, and at this stage it's not clear whether that's the case. PD can take advantage of VT if it's there, so it has the opportunity to become faster and still offer much better ease of use than BootCamp.
Verdict
Which approach you take to running Windows on a Mac will depend on how you balance the performance you hope to get out of your system with your need to proceed safely and risk-free. BootCamp will always deliver the maximum performance to your Windows apps, but Parallels Desktop offers greater flexibility and an easier, safer installation process. It's also the better product for quickly dipping in and out of Windows - or any of the other x86-based operating systems it, unlike BootCamp, supports. ®
Sponsored: Ransomware has gone nuclear

Windows on Mac: BootCamp vs Parallels Desktop
Mix'n'match ways to run Windows on your Mac...
Price:
BootCamp: free RRP