Storage specialist Plextor has announced an external optical drive designed to delete all the data stored on a recordable or rewriteable DVD or CD - permanently. It does it quickly, too - single layer CD-R/RW and DVD±R/RW media take just three minutes to wipe, the company claimed.
Dubbed the PlexEraser PX-OE100E, the product's pitched at security conscious corporates who want to ensure that binned optical media don't contain confidential information that could be retrieved later on. Plextor's system zaps the organic dye layer, destroying any data the disc may contain and preventing any new information being written to it.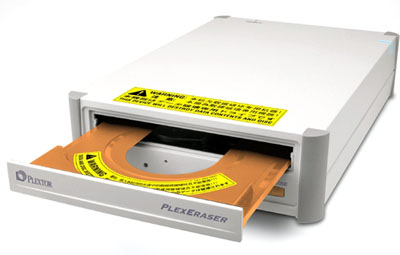 The PX-OE100E also support dual-layer media, but they take twice as long - six minutes - to erase permanently. And to ensure no one blasts a disc that wasn't meant to be destroyed, the drive's tray-load mechanism is coloured orange as a warning. The drive can accept 8cm and 12cm discs.
Plextor said the PlexEraser will ship in September. ®