Review I was reminiscing recently on days gone by when the only thing you considered before buying a mobile phone was its ability to make and receive calls. Today, such simple factors are taken for granted and have long been supplanted by how many MP3s it can store, what the games are like and whether it takes a good photo or not. Case in point: Sony Ericsson's Cyber-shot K800i. Photography is what this camera-branded phone is all about...
The mobile phone we're looking at today manages not only to boast a maximum photo resolution of 2,048 x 1,536 thanks to its 3.2 megapixel camera, but it also finds room for an autofocus mechanism, a comparatively bright f2.8 lens, image stabilisation and macro capabilities to boot. Well, Sony Ericsson had to pull off something a bit special before it could be given the same name as Sony's hugely popular digital camera family, didn't it?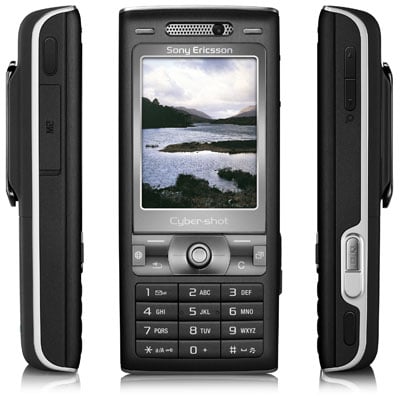 The K800i's roots are undeniable. The moment you set eyes on it you're reminded of a stretch K750i, no bad thing given the K750i's success. Sony Ericsson has stuck with the tried and tested matte black body and silver accents, though it has replaced what little of the front fascia is visible with an black brushed aluminium finish.
Despite being only a centimetre or so longer than the K750i, most of that extra real estate has been devoted to the screen and the area immediately above it where the VGA video-call camera resides. The result of this is that the keypad has now been crammed into the lower quarter of the handset and though the keys are only fractionally smaller, combining this with their position makes it far more awkward to use quickly and accurately.
The K800i's screen is an excellent 2in, 320 x 240, 262,144-colour unit. It's bright, vivid and sharp, and its visibility holds up well under bright sunlight. A silvered border around the screen does a sterling job of reflecting and thereby amplifying the herds of fingerprints that frustratingly seem to congregate on the high-shine surface. Keep that micro fibre cloth handy.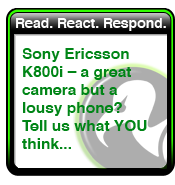 On either side of the earpiece are a couple of raised strips that I initially assumed were there to protect the screen if you set the phone down face down. While they do serve this purpose, in reality they're buttons. Pressing them in standby mode activates either the camera album app's full screen or thumbnail image views - when the camera's running, they call up the shooting mode and scene mode settings.
Sited either side of the joystick are the familiar left and right selection keys and below these the back key and the clear or cancel key. Joining them are two even smaller keys, one for internet access, the other an activity menu key, which is used to call up a selection of tabbed screens. From here you can manage your shortcuts, check new events like missed calls and new messages, return to or close running applications, or access internet search and bookmarked pages.
The keypad backlighting is white and gives an even illumination that makes the pad a joy to use at night. The menu buttons and joystick however glow with a pale lavender colour which is actually more effective than you'd imagine.
On the right-hand side of the phone we find an IrDA port and a camera button. There's also a two-way rocker switch which sets earpiece volume levels during a phone call and controls the level of digital zoom when in camera mode. Over on the other side all you'll find is the audio play/stop button which will activate playback of whichever song or remaining part of a song is cued up in the music player and do so from any available screen. A hinged plastic cover below this hides the M2/Memory Stick Micro memory card slot.