Apple goes all Intel all the time
Leopard put in Time Machine
---
The great Intel sell-out is now complete with Apple today revealing the new Mac Pro workstation. The Mac Pro - codenamed 'Hero', incidentally - runs on a pair of Intel's latest dual-core Xeon server processors, giving it plenty of horsepower to handle the clunky Safari browser. The box offers up twice the performance of older IBM chip-based Power Mac G5s.
Apple's black-shirted crusader, Steve Jobs, revealed the system to customers at the company's developer conference in San Francisco. "Today the Power Mac is going to fade into history," he said, going on to describe the Mac Pro as a "beautiful machine."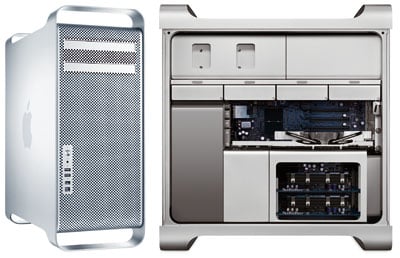 Apple has now finished off its switch from Power architecture chips over to Intel's x86 processors. But it wasn't all hardware at the developer conference today. Apple also talked up its upcoming "Leopard" version of the Mac OS X operating system.
Before we get to the spots, let's have a look at the Mac Pro. The shiny kit boats a pair of Xeons (2GHz, 2.66GHz or 3.0GHz), eight FB-DIMM memory slots, support for the latest Nvidia and ATI GPUs, four hard drive bays and a 16x SuperDrive. There's also an additional, open optical drive bay if you happen to need another SuperDrive.
The system starts at $2,499 for a "standard" configuration but dips to $2,199 with the 2.0GHz chips.
To complement the desktop box, Apple also announced a new version of its Xserve server that also runs on the fresh Xeons from Intel.
"Configurable with two Dual-Core Intel Xeon processors running either 2.0, 2.66 or 3.0 GHz, the new Xserve supports up to 32GB of 667 MHz DDR2 ECC FB-DIMM memory with twice the capacity and three times the bandwidth of the Xserve G5," Apple said. "Two eight-lane PCI Express expansion slots provide up to 2GB/s of throughput each to support the next generation of fibre channel, networking and graphics cards. Apple delivers industry-leading storage flexibility with support for up to three 3Gb/s SATA or SAS drives that can achieve an unrivaled 2.25TB of hot-plug storage in a 1U server while advanced thermal management capabilities take advantage of the low power of the Intel processors, running as low as 65W."
This system will start shipping in October at $3,000 and up.
On the Leopard front, Apple has found another nice way to poke fun at Microsoft. While talking up Leopard, Apple executives made sure to point out how Microsoft's upcoming Vista operating system copies a number of features already found in Mac OS X.
With Leopard, which is set to arrive in the spring of next year, Apple should extend its lead over Microsoft. The company today showed off an application called Time Machine that will handle automatic data backups and restores. Leopard will also include full native 64-bit software support, anti-phishing tools in Mail and Safari, an automatic firewall, new parental controls with time limits and remote administration, a faster version of the Spotlight search tool (which puts things such as Google Desktop to shame), and a refined version of Boot Camp.
With Leopard coming out and the Intel shift complete, Apple will be under more pressure than ever to show that it can take back some meaningful market share from Microsoft and the PC crowd. A lot of the performance and price knocks against Apple have been lessened via the Intel makeover. And it's pretty clear that Microsoft remains in catchup mode on the operating system front, even after Vista ships.
Of course, there's nothing horribly wrong with remaining the BMW of the computing scene. But you'd have to believe Apple would like to make the most of its chip transition and possible iPod carry over sales.
On a historical note, the completed Intel capitulation would have put a smile on Intel co-founder Bob Noyce's face were he alive today. Noyce was one of the first investors in Apple, and Jobs used to sleep on Noyce's couch.
As Noyce's wife Ann Bowers recalls in Leslie Berlin's biography on Noyce The Man Behind the Microchip,
"Steve would regularly appear at our house on his motorcycle. Soon he and Bob were disappearing into the basement, talking about projects."
Noyce treated Jobs "like a kid, but not in a patronizing way. He would let him come and go, crash in the corner. We would feed him and bring him along to events and to ski in Aspen."
As Jobs tells it, "I remember him teaching me how to ski better. And he was interested in - fascinated by - the personal computer, and we talked a lot about that. Bob was the soul of Intel, and (he wanted) to smell that second wonderful era of the valley, the semiconductor companies leading into the computer."
And what a smell it was. ®