Pictures of Research in Motion's upcoming BlackBerry 8100 camera-equipped gadget popped up on a variety of websites this weekend following what appears to be a mass email-out by a lone leaker. The snaps show the GSM/GPRS/EDGE machine in its T-Mobile colours.
A number of the sites have shots, but the sharpest appear to be those over at Mobility Today. Here's one: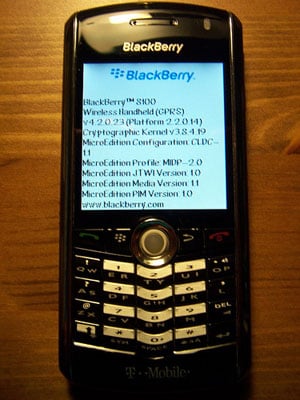 You can find a few addition shots in Engadget's report.
In addition to the camera - resolution unknown - the device has music and video playback apps, a feature RIM co-chief Jim Balsillie has been touting during a recent round of interviews. There's clearly a mini USB port on the phone, but we understand it has a MicroSD slot too. ®