This article is more than 1 year old
Nokia E70 smart phone
World-beating design let down by bugs?
The E70's construction is to a very high standard, and the joystick feels firm and responsive - easily Nokia's best yet. Unfortunately, the most important key - the Applications button, is the same size as the auxiliary Clear and Input keys. At least it's in a sensible place, however.
Opening out the E70 and comparing it to its more modest predecessor, one change gradually becomes apparent: the larger screen isn't symmetrical. If you're used to relying on muscle memory to locate your icons, you may be disconcerted to discover that the 3 x 4 grid has become a 4 x 3 grid, with the icons juggling around. Some applications benefit from landscape view, such as messaging, but some, like such as reading online or offline documents, don't.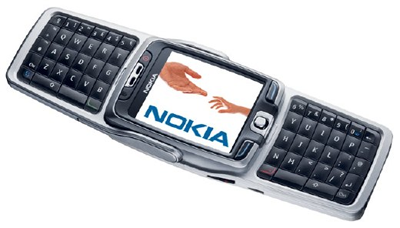 Features
The new real-time capabilities of the Symbian 9.1 operating system allow manufacturers to make a one-chip phone, with Symbian running the radio code. This means vendors can build last year's specs with a lower BoM (bill of materials), or cram in more features than ever for a comparable BoM cost - all things being equal. Both Nokia and Sony Ericsson have chosen the latter approach. It also promises potential power savings.
The E70's rich feature set includes Wi-Fi, WCDMA 3G as well as 2G bands, Bluetooth 2.0 and - slightly surprisingly for a business phone - a camera.
The bundled Office applications include word processor, spreadsheet and presentation viewer, each with a rich feature set. For example, the Document editor supports styles, object embedding, templates, multiple font support, multiple zoom levels, and a printing ability that includes network printing and print preview.
Then there's the clipboard. If you're editing a document there's no apparent way to cut and paste. In fact there is, using the Ctrl key secreted away on the right edge of the QWERTY keyboard. But this isn't documented in the manual, and there's no "Edit" menu indicating the presence of these functions. (The manual contains one reference to the clipboard, suggesting that entire worksheets can be pasted to the clipboard. That's all.) It even fooled this reviewer, who had spent a month with the phone.
A vociferous minority of users has been demanding an Outlook-style Today screen, which in recent phones is called ActiveDesk. Some people can't live without this, but since it only shows at most six items of data extracted from four applications, one wonders what the point is. The PIM portion of the display can't be configured (for example, to only show Tasks, or only new Email headers. Perhaps sadistic employers demanded its inclusion, to maintain high levels of neurosis and anxiety amongst the workforce.
We'd be much more impressed if some attention was paid to the default PIM functionality. Smartphones are sold as digital organisers, but one must buy third-party software to assign categories to tasks - basic stuff for ten-year-old Palms and Psions - and no help if you've assigned an Outlook category to the task.
The spruced up mail client certainly benefits from WLAN connections and the extra screen space - but you still can't delete local headers without deleting the copy on the server too. But out of the box, Nokia provides ActiveSync Exchange connectivity, configured in a separate application.
The E70 can only be faulted on one particular feature, and we can't avoid it any longer. So brace yourselves for the bad news, dear readers...