This article is more than 1 year old
Nokia E70 smart phone
World-beating design let down by bugs?
And rotation introduces new problems, each of which proved fairly irksome. The first time the keyboard is opened, the screen may take five to seven seconds to complete the 90° rotation. After that, it depends on the application: with ActiveDesk enabled our model took three to four seconds. Nokia has incorporated an ambient light sensor into the E70, allowing screen and keyboard to be set automatically. Unfortunately, it may take several seconds for the QWERTY keyboard backlight to activate. This department needs some work. And we noticed that opening up the keyboard raised Out of Memory errors. It transpires that rotating the screen consumes several megabytes of RAM.
But while the cellular radio performance was first rate, the Wi-Fi implementation is woeful.
The E70 boasts 802.11b and g, WPA encryption, and can even serve as an ad hoc access point. Configuration and logon were painless, and the concept of access groups - similar to Mac OS X's network Locations - was welcome. This gives a preferred list of radio access methods, for example 'Work WLAN', 'Coffee Shop', and '3G' for each application. But the E70 was simply unable to find or maintain a WLAN signal reliably.
Even a couple of feet away from a basestation, the E70 failed to find a signal on around 40-50 per cent of connection attempts. Around 80 per cent of the time, it lost the signal within a couple of minutes. As we noted in our review of the Nokia N80, there's no way to turn off the E70's Wi-Fi adaptor.
We wondered how much of a factor this was, and how much could be attributed to poor antenna design. Wi-Fi is an ill-suited technology for small mobile devices because of its high power consumption, and it poses problems for designers - that's no secret. However, we preferred the aggressive power saving approach taken by Palm for example, whose Wi-Fi PDAs make a reconnection attempt after a short-time out. This was less irksome than seeing the signal fail so regularly.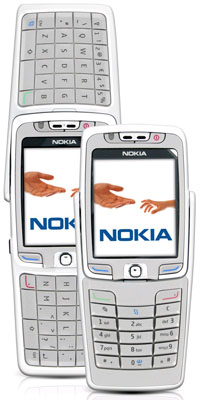 Usability
Rather ominously, Nokia now introduces its phones as "mobile computers". Is this an admission of failure by a company that owes much of its success to making complex technology easy to use? As the inventor of C++ observed: "I have always wished that my computer would be as easy to use as my telephone. My wish has come true. I no longer know how to use my telephone."
This reviewer has criticised the S60 user interface before, but in its favour, it must be said it's provided a coherent transition from single-tasking S40 phones into the multi-tasking world of smart phones. It's certainly a smoother transition than the shock in store for P900/910 users, or owners of Sony Ericsson feature phones who want to use UIQ 3 - our review of the M600i will appear soon.
What bedevilles the E70? Apart from the catastrophe that is the Web application, the major problems are WLAN- and memory-related. The remainder count as niggles: an undersized Apps key when the keyboard is open; slow screen redraws; and the lack of a proper clipboard. Somehow, these omissions made it through the design process, and the bugs through the Q&A process. Some of these can be fixed in firmware revisions. But the PIM features still aren't what they should be, and that's a conscious design decision.
Verdict
Sixty-three per cent of mobile phones are returned as defective, a study found recently, when there's nothing wrong with them. Former Palm marketing guy Mike Mace expressed this statistic better on his blog recently, "that is to say, whatever's wrong with them was designed in deliberately".
Nokia has done so much right, it's unfortunate it falls at the hurdle marked 'fit and finish', and the company needs to give quality control and usability some urgent attention.
Competition at this end of the market is intense, with enterprise messaging now mature. But while key rivals such as Microsoft, Palm and RIM don't have Nokia's reputation for reliability and first-rate voice communications, Nokia can't afford to falter. ®

Nokia E70 smart phone
A great design and feature set marred by major bugs...
Price:
£330 untethered. Network price depends on contract RRP