This article is more than 1 year old
Borland enlists Turboman for Windows tools
Is it a bird? Is it a plane? No - it's a brand strategy!
Borland Software is resurrecting a face from its long-forgotten past as it prepares to launch new tools for Windows developers.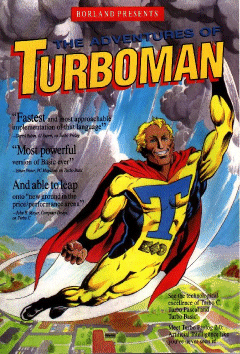 Turboman - the impossibly blond comic strip hero whose ads promoting Borland's Pascal, C and Basic fast RAD tools and languages ran in Dr Dobbs - has been brought back from his 1980s exile. The move comes as Borland prepares single-language versions of Borland Developer Studio under the Turbo moniker. Introduced in 1983, Turbo Pascal was one of the industry's first commercial PC development environments.
In the pipeline for the third-quarter of 2006 are Turbo Delphi, Turbo C++ and Turbo C#, which will be made available in paid-for and free editions. The Turbo range will offer low-cost, language-specific rapid application development for students, hobbyists and professional developers.
Borland is resurrecting the Turbo name - which it calls a "brand classic" - at a crucial time, as it spins out its tools as an independent business.
The chargeable version of Turbo, Turbo Professional, will start at under $500 while academic pricing comes in at less than $100. Borland knows how tough it is to build a business based on licensing (Borland Developer Studio 2006 - featuring Delphi, C++ Builder and C# Builder cost $1,090 list price), so the spin-out is looking for a different revenue mix. Through the Low-priced and free tools it aims to build a bigger customer base which it can then flog services to.
Microsoft adopted a similar approach last year to market segmentation and market building, when it launched free, lightweight Express editions of Visual Studio and its SQL Server database. The difference here appears to be that Borland is supplying a full-powered IDE while Microsoft offers relatively limited functionality.
Turbo Professional and the free, downloadable Turbo Express will feature two-way RAD designers, ALM tools, database and more than 200 drag-and-drop components, according to Turboexplorer.com.
Greater functionality and quality will be key selling points as the independent tools business must compete with Microsoft's Visual Studio for business - Borland is the number two-provider of tools for Windows, behind Microsoft (albeit some-way behind). ®
Bootnote