Swiss cooler maker Arctic Cooling this week said it wouldn't offering its Fusion Supporter voltage peak suppressor after all. The product, hyped at CeBIT in March this year and later at Computex Taipei, actually delivers "no value" to end-users, and had "no market potential", the company admitted today.
Such an admission is bizarre enough, but Arctic also revealed that it had sold the as-yet-unreleased product to an unnamed "Asian customer" back in July. Presumably, said buyer feels there is some end-user benefit in the Fusion Supporter.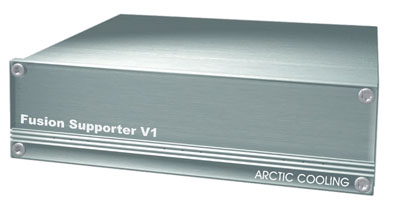 According to Arctic, the Fusion Supporter used a bank of 91 capacitors used to absorb load peaks and make "continuous recharging possible". However, testing revealed that while the device operated as expected, the end result made little difference to the stability of computer systems it was connected to, Arctic said.
All of which, we'd have thought, Arctic could have learned before it presented the box at CeBIT and Computex. Ho hum... ®
Related review
FSP Booster X3 GPU-friendly power supply