Logitech launches wireless Skype phone
Array-mic speakerphone too
Mouse maker Logitech has hopped on the VoIP bandwagon with a phone-style cordless handset capable of connecting to its host computer from almost anywhere in the house. It's got a colour display and it's set to work with Skype. The company also unveiled today a PC-connected speakerphone and a Bluetooth headset for phones.

The Skype-friendly Cordless Internet Handset is one of the better-looking VoIP-based DECT replacement handsets out there. It ships with a charging cradle that can be sited in any room - the phone communicates wirelessly with a bundled USB dongle. Handset and dongle can be place up to 50m apart, Logitech said.
The company also touted the handset's speakerphone feature, its illuminated keyboard and its "variety of ringtones".
The Logitech QuickCall USB Speakerphone for Internet Calling - to give the gadget its full, long-winded moniker - sports a two-microphone array for greater sensitivity. If you reckon that will make for more noisy calls, think again, because the array's directionality can be used with the speakerphone's sound processing and echo-cancellation technology to improve audio quality. The unit is bus-powered and has a headset socket for private calls.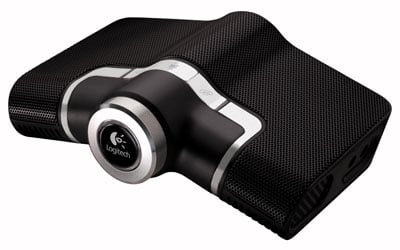 Finally, the Logitech Cordless Headset for PC and Mobile Phones is a typical Bluetooth headset made more interesting, the company suggested, through its WindStop technology, which "servers as a barrier to disruptive air currents".
The Logitech Cordless Internet Handset will be available in the US and Europe in October for £70/$100. The Cordless Headset will ship at the same time, again for £70/$100. The QuickCall USB Speakerphone also costs around £70/$100, but will only be available in the US in October - European buyers will have to wait until December to see it over here. ®