Review It's been more than three years since the UK got its first 3G mobile phone network but a little less than two years since cellco Vodafone allowed its customers access to the technology. It's not hard to see why it waited: the early hype about mobile broadband quickly proved unjustified. But a last we're coming to the end of a year-long programme of metropolitan base-station updates bringing High Speed Downlink Packet Access (HSDPA), and there's a chance that the promise of 3G will be realised...
HSDPA is theoretically able to deliver downloads speeds of up to 14.4Mbps, but that's some way off. Networks are staging the tweaks needed to deliver that level of throughput. Most are initially targeting 1.8Mbps, and that's what Vodafone promises for one of its first HSDPA devices, the 'super 3G' version of its Mobile Connect Data Card, now formally dubbed a "3G Broadband" product.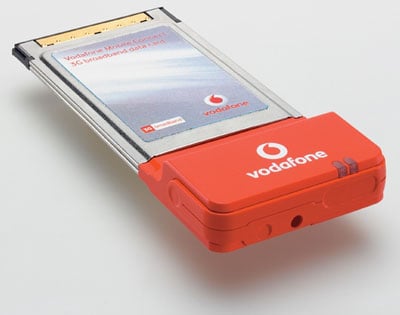 Vodafone-branded the card may be but it's actually made by Option - it's the Globetrotter HSDPA card. Some cards are made by Huawei, I understand, but the review sample was the Option product. The connection software comes from DigiNext. The card is a standard PC Card device and like past Mobile Connect Cards incorporates a large, red module that here pokes out almost 4cm beyond the edge of your notebook. The SIM card slides into a bay on the underside of the card. On the edge of the module you'll find a connector for an external antenna, though Vodafone no longer supplies one in the box.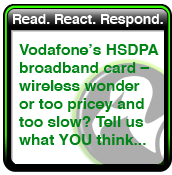 Gone too is the headset socket, along with the SIM's ability to allow voice calls to be made. Presumably, Vodafone reckons the card's users will prefer VoIP, airtime terms and conditions, and usage limitations permitting. The SIM does enable text messaging, and the Mobile Connect software provides an email-like interface to manage incoming and outgoing SMS messages. Personally, I'd have like a more IM-esque SMS interface that automatically groups messages chat-style - Palm Treo works this way - but I guess Vodafone email styling will appeal more to business users.
Vodafone provides a version of its Mobile Connect software for Mac OS X users and ships the 3G Broadband card with Mac drivers. Alas, being a PC Card device, the card isn't compatible with my ExpressCard-only MacBook Pro, so I wasn't able to test the card out in my own machine. Unlike the PC release, however, the Mac software doesn't provide a texting interface - it simply defined the parameters of the connection between card and network and then uses OS X's own Internet Connect utility to open a data link.
It does at least provide usage statistics - as does the Windows version - to help you judge whether you've been tucking in to your data tariff too aggressively. The Windows code also adds links to your default email and web browser applications, and has an integrated Wi-Fi hotspot locator. This is simply a searchable list of Vodafone-affiliated hotspots. Since the 3G Datacard itself has no Wi-Fi support of its own, you'll need a suitable WLAN adaptor to connect to one.
When you're in the right place, click the software's WLAN icon to connect to a hotspot - presumably it tells the base-station to give you access as a Vodafone customer, saving you from entering your credentials through the hotspot's own web front-end. All the ones near me are McDonalds, and I didn't feel it prudent to sit beneath the golden arches and pull out almost two grand's worth of Acer Ferrari laptop to try this. The WLAN icon remains greyed out until Windows has associated your machine with the nearby access point.