But, let's be honest, the point of the card is HSDPA access - Wi-Fi's just a back-up for the slowly diminishing areas outside Vodafone's 3G zones. Right now, that's limited to London, Birmingham, Bristol, Tyneside, Merseyside, Manchester and Glasgow. Inserting the card into the notebook and running Mobile Connect for the first time allows you to select the network you're using and the country you're in. All done, up pops the main Mobile Connect interface and you're ready to click on the Mobile icon.
Connected, Windows happily reported I was on a 1.8Mbps connection, the very top end of HSDPA's current download bandwidth range. Vodafone suggests you'll typically get no more than 1.4Mbps, but even being slap bang in the centre of London - and suitably proximate to a Vodafone base-station, presumably - I got a slightly lower figure.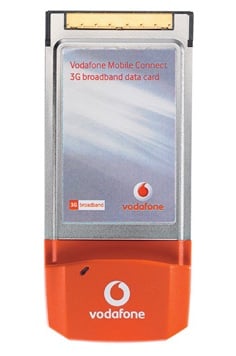 Trying it out with a download - the 22.9MB Windows Media Player 11 beta package - I achieved reported speeds of up to 1.3Mbps, according to Windows, or 2.1Mbps according to Mobile Connect. Numbers are all very well, but I can say the download process - and, indeed, loading web pages and getting email - felt fast. Better in fact than the office WLAN connected to a 2Mbps ADSL link. Since it's the broadband backhaul and not the Wi-Fi speed that really governs how fast a hotspot's internet link is, I'd say the 3G card is going to give you better performance than many a public WLAN, especially if the hotspot is being used by others.
Outside Vodafone's metropolitan HSPDA zones and beyond the reaches of its 3G network, the Mobile Connect card can go online using GPRS. You can set the card to favour any kind of mobile phone network connection, right down to dial-up over GSM. The Option card has EDGE support, but Vodafone's documentation doesn't mention this technology.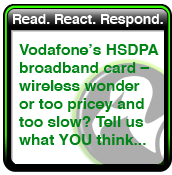 Connecting, say, by GPRS still shows up a connection speed of 1.8Mbps. Re-downloading Windows Media Player 11, however, revealed a bandwidth closer to 45.6Kbps - a lot lower than the HSDPA rating.
Upload speeds can reach 384Kbps, so big file transfers from your machine are faster than they were under 'old' 3G - up to 128Kbps - but these are both raw radio speeds and real-world performance, after error checking and other protocols come into play, is much lower and didn't feel anywhere near as quick as downloads did.
Then there's pricing. The card itself costs £49 or £99 depending on your data tariff, of which there are three, costing £25, £45 and £95 a month respectively. The cheapest bundles 250MB of data transfer each month, with the rest costing £1 a meg. The other to are 'unlimited' in the UK - ie. subject to the usual 'don't take the mickey' policy.
Overseas the £25 and £45 tariffs bill you £3.50 a meg on Vodafone's other networks or £8.75 elsewhere. Only Austria, France, Germany, Spain, Portugal and Hong Kong have Vodafone-owned HSDPA networks. The £95 tariff includes 100MB of roaming data transfers. All these prices exclude VAT and are Business-customer prices. Consumers pay the same but aren't offered the top-end roaming-oriented tariff.
Verdict
Vodafone's Mobile Connect 3G Broadband data card certainly delivers mobile broadband, and it's clear HSDPA is a big step up from 3G. Roll on future bandwidth enhancements, not to mention improved upload speeds, courtesy of HSDPA. Even with HSDPA, 3G lags behind the speeds many of get from landline broadband, but at last we can say you can get a broadband experience on the move.
The downside is the cost. Sure, Vodafone bills 3G at the same rate as GPRS, but it's still a big monthly outgoing. You're not going to want to use it to replace a Wi-Fi connected ADSL modem, for instance. And given how slow GPRS feels after using HSDPA, you're not going to want to use the card outside Vodafone's HSDPA territory. ®

Vodafone Mobile Connect 'super 3G' data card
Mobile broadband arrives - hurrah! Very expensive, geographically restricted - boo!
Price:
£49 (with £45 or £95 monthly contract), £99 (£25 monthly contract) RRP