This article is more than 1 year old
US vendor ships mobile-ready hotline rotary phone
Perfect companion for the Nuclear War USB hub?
With tech-tastes turning to everything retro, and ye olde analogue mobile phone brick-like handsets commanding high prices on eBay, how about going back more than a decade or two for the acme of old-style telephony: the rotary dial.
That's what US-based Spark Fun Electronics is offering: a classic desktop dial-phone, kitted out in red for that Washington-Moscow hotline effect - so it's a perfect partner piece for the USB Nuclear War hub we featured earlier this summer.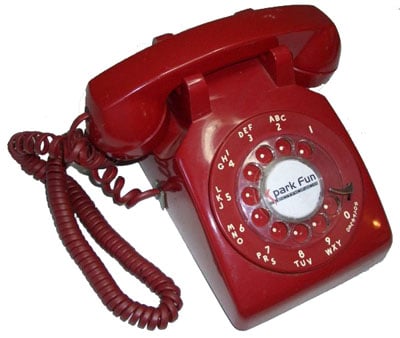 Spark's Port-O-Rotary is no landline - it's a full tri-band (900/1800/1900MHz) mobile handset, complete with SIM slot and a 2000mAh rechargeable battery should you care to carry it out on in the road with you. That said, it weighs over 900g, so it's not exactly pocketable, but the battery should last 4-5 days on a single charge.
There's only ringtone, of course: literally so, since it's generated by a pair of metal "gong-style" bells, Spark claims - there's even an MP3 of it in action here. And the sound's pumped through original earpiece and microphone cones, so don't expect a clear, digital-like signal, the company warned.
It doesn't come cheap, mind: Spark wants $499 before postage and packing. You can buy it from Spark's website. ®