Exclusive Review The GPS gadget market is dominated by brands like Garmin, TomTom, Navman and Magellan, so it's unlikely you'd have the name Fujitsu Siemens topping your shortlist as you head down to the shops. But perhaps you should. With the introduction of the N100, Fujitsu Siemens has a real contender on its hands that will give the established brands a run for their money...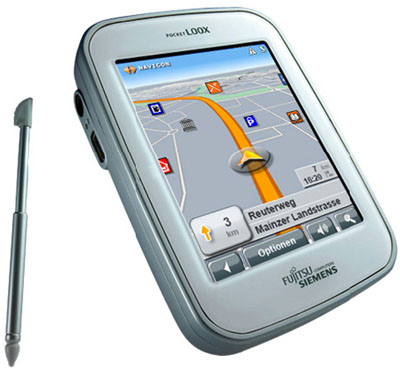 The N100 is being heralded by Fujitsu Siemens as "the smallest and lightest multifunctional PNA on the market", and with good reason. Weighing in at a mere 110g and with its svelte 8.9 x 6.2 x 1.6cm physique, it's smaller than most mobile phones - well, if we disregard the width... The silver and white design is unashamedly minimalist, and while I'll admit that Fujitsu Siemens' stock clean-lines approach doesn't always work for me, the N100 is a peach. It might be the white fascia or the total lack of any controls or flourishes on the front, but there's a certain Apple-esque quality to the N100 that can pique your interest even before you know the specifications. If you're not fond of the fascia, you can swap it for a different colour. You get a black face-plate in the box and others colours are also available.
An open slot on the left of the device takes the supplied memory card, a 1GB MiniSD job, bearing pre-installed maps of the British Isles, France and Nordic nations, and you get a further seven maps on the supplied DVD, all of which can be quickly activated online. This means you have virtually instant access to an incredible 37 European countries right out of the box.
On the bottom of the device is an earphone socket. You'll also find a mini USB port which is used for both data transfer and charging. A pair of LEDs beside the USB port relay charging status and GPS signal strength. Also hiding down here is the microphone aperture.