Brief wait for iPod underpants, warns supplier
It's a smalls world, isn't it?
---
NSFW It just had to happen. Yes, someone's designed a pair of ladies underpants with an iPod Nano-sized pouch. We're not talking about the iPod thong spoof that did the rounds not so long ago, but the new knickers share the same name: iGroove. Alas, it's also the name of a series of speakers from Klipsch.
Undeterred, supplier SexySociety.com said the iGroove Panty for iPod Nano is "perfect for those of us who love to lounge around in sexy undies all day and have our music.
The design's a "black lace" affair - no, don't even go there 1980s music fans - with "pink ribbon and removable pocket to hold iPod Nano...or other small personal items".
What can they be thinking of? Loose change? Lippy? Hanky? Bus tickets?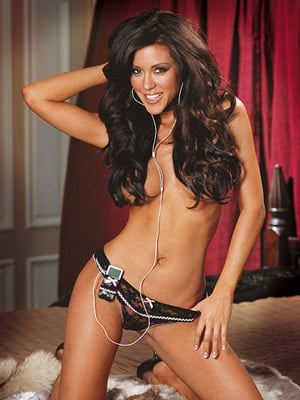 Whatever, there's a wee wait - the iGroove Panty packs won't ship until early next month, notes the online retailer. Made by Dreamgirl, the iGroove is available in one size that "fits most", according to the box. They're priced at $13 a pair, but shipping is free, apparently. You can buy it here. ®