NASA and PPARC have confirmed that the STEREO mission (the acronym cunningly derived from Solar TErrestrial RElations Observatory) is slated to launch on 31 August.
The mission comprises two almost identical craft that will be sent on diverging paths orbiting the sun. They will monitor our star's activity, particularly tracking coronal mass ejections, solar flares and other activity that affects Earth, satellites, and astronauts.
They will record data in ultra-violet, and will also use a coronagraph, which creates an artificial eclipse, to study the outer atmosphere of the sun.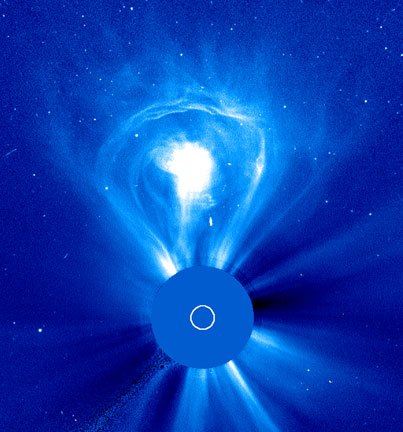 Professor Richard Harrison of the CCLRC Rutherford Appleton Laboratory (RAL), part of the UK team working on STEREO, said the craft would help us better understand our star:
"[The sun] generates constantly changing knots of magnetic fields that twist and churn and, occasionally, snap like an over-stretched rubber band producing CME outbursts. At the moment, we cannot recognise the tell-tale signals that precede an outburst, but we expect STEREO will change that."
Because the mission uses two observing points it will allow scientists to build a three dimensional picture of the sun for the first time. It will also give us more warning when coronal mass ejections are headed right for us, giving satellite operators more time to put their equipment into safe operating modes.
PPARC CEO Professor Keith Mason said: "Predicting the timing and strength of solar eruptions is clearly important if we want to mitigate the threat of CMEs and STEREO's twin observatories will be our sentinels, providing a unique insight into the evolution of these huge outbursts."
The mission was originally scheduled to launch on 1 August, but a series of small problems meant the launch date kept slipping and mission planners were in danger of missing the launch window. Rather than rush, they decided to go for the next window, running from 20 August to 6 September. ®