Linux-for-phones developer Trolltech is to offer its own handset to promote demand for its Qtopia Phone Edition operating system, the company announced yesterday. The Qtopia Greenphone will ship with Trolltech's SDK and will feature a developer-friendly rewriteable application storage space.
Trolltech said the Greenphone was the first of a series of mobile devices it plans to offer to software developers - all rather more tactile and convenient than the virtual devices customarily offered with software development kits.
The phone is based on a 312MHz Intel XScale PXA270 processor backed up with 64MB of RAM and 128MB of Flash memory, and there's a MiniSD slot for more. The device's 240 x 320 display is touch-sensitive. The Greenphone connects to GSM/GPRS networks and has Bluetooth on board. It also has a 1.3 megapixel camera, and measures 10.7 x 4.9 x 1.6cm.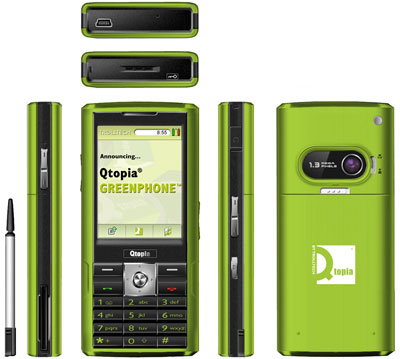 The handset tuns Qtopia Phone Edition 4.1.4 on top of version 2.4.19 of the Linux kernel. Qtopia is based on Trolltech's Qt C++ development tool - the foundation, incidentally, of the KDE Linux desktop environment.
Trolltech said Qtopia is currently used in 11 mobile phone designs of which more than 4m devices have shipped. It counts Motorola among its list of mobile phone partners, but it's clearly hoping the Greenphone will attract many more to its platform.
The company didn't say when these developers might get their hand on the SDK and the Greenphone - or how much it will cost them. It promised further details of licensing, pricing and support will be released "in the near future". ®