Gaming peripherals specialist Razer's plan to offer a computer keyboard with an integrated iPod dock emerged back in March this year. Five months on and the company has finally confirmed it is preparing to launch just such a product.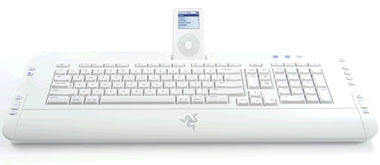 The Pro|Type Multimedia Keyboard not only incorporates an iPod dock, but it has a set of iTunes-friendly media-control keys and line-out ports for connecting up speakers and other audio equipment, Razer said. Ten further keys can be programmed to run macros or send out specific keystrokes.
Other peripherals can be connected through the board's two USB ports. It itself hooks up to the host by its own, gold-plated USB connector. There's 32KB of on-board buffer memory, apparently.
Razer would only say the Pro|Type is "coming soon". It's been claimed of late the company is also working on a Zune-oriented version of the product. ®