Reasearch in Motion's upcoming multimedia-friendly BlackBerry has surfaced on the US Federal Communcations Commission's website, not only confirming the device's existence but many of its rumoured features.
It's certainly got Bluetooth on board - a shot shows the phone-like device's Bluetooth MAC address - and the anticipated camera is present and correct on the back of the handset, as is the flash. You can see the SIM slot inside the battery bay, and what appears to be housing for the device's rumoured MiniSD card slot. There's a mini USB port on there too.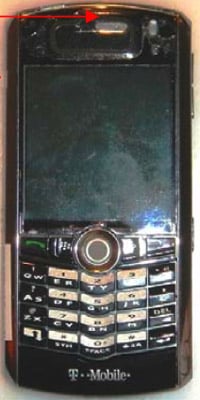 The phone's anticipated trackball control is visible, though it's impossible to confirm it is a trackball and not a standard five-way control. The FCC documents don't confirm the device's screen size, said to be 240 x 260.
The shots, complete with a nice disassembly of the product can be seen here.
An allegedly leaked launch statement sent to Engadget notes the screen will be a 65,536-colour job, and that 64MB of memory will sit inside the device. Which will be called the BlackBerry 8100, by the way.
As past photos and the FCC snaps reveal, the 8100 will ship on the T-Mobile network, if not on others. ®