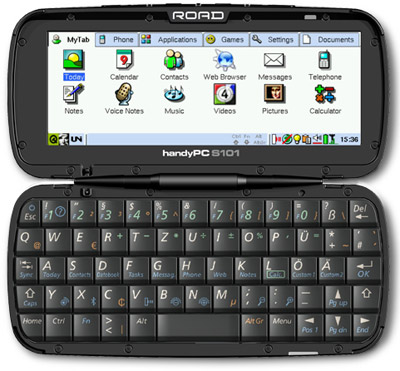 German phone maker Road has announced its answer to Nokia's Communicator. Dubbed the HandyPC, the phone-computer combo is based on the Linux operating system and Trolltech's Qtopia GUI. It's a quad-band GSM/GPRS/EDGE device with Wi-Fi and Bluetooth on board too.
Opening the clamshell device reveals a QWERTZ keyboard and a 640 x 240 display - closed, the unit presents a 102 x 65 monochrome phone screen. The HandyPC contains the usual array of PIM and messaging apps, along with a viewer to read Microsoft Office files. It will ship with PC synchronisation tools, media player software and a web browser. It can even be used as a voice recorder.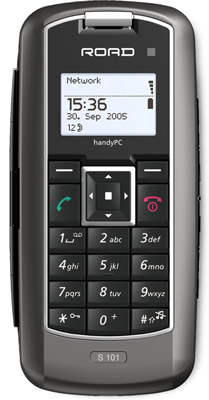 Road said it will offer two variants: the S101 and the S101K. The two are almost identical - the S101K simply adds what the company described only as "encryption" to the standard package - presumably support for protected VPNs and the like.
The hardware's the same in both versions. A 400MHz Intel PXA264 CPU powers the device, which also contains 64MB of RAM and 64MB of Flash. It sports a two megapixel camera and includes a 1,500mAh lithium-polymer battery - good, said Road, for four hours' talk time, 240 hours on stand-by, or five hours' PC usage.
The S101 weighs 210g and measures 12.8 x 6 x 2.6cm.
Road hasn't said when it expects to ship the HandyPC, or how much it will charge for the device. It did say it's working on a larger, more notebook-like version, dubbed the L101. However, advance-order interest can be registered at the company's website. ®