Interview Nokia has a radical strategy to outflank some of the world's biggest technology companies, including Google, and it shared some of the details with El Reg in Barcelona this week.
According to Michael Halbherr, a key member of Nokia's top executive team and arguably number two to CEO Stephen Elop, location-based human behaviour information is the new Google search results – instead of web pages, it's "search results for the real world".
This is Nokia's plan. To make intelligent inferences, it needs lots of data: Really, Really Big Data. What certain kinds of people do at a given time, on a given day, in a particular place. And the system needs to scale. So Nokia is licensing its location-finding services to rival phone manufacturers in order to achieve this.
Apple has its own. Android and non-Android manufacturers are reluctant to become dumb waiters as this valuable information is collected by Google. Fine, use our platform, Nokia says to them, and you can keep it and use it too. Google and Apple are not sharing their 'behaviour platform' quite as freely, if at all.
Halbherr provided some fascinating new insights into the thinking behind the plan for the first time anywhere.
He said we're only at the beginning of what the technology can do. Mobile devices have maps – and in Nokia's case, very good maps – that are responsive, vector-based charts that work offline and cover just about every corner of the world. They can include related information – such as traffic or restaurant reviews. So why's it giving it all away?
Technology still doesn't provide the right information people need when they need it - and still makes things really complicated for a mobile user, thinks Halbherr. "Licensing Frommer's Travel Guide or Lonely Planet isn't enough anymore," he says.
"We think this is the next Google, only it's indexing the real world," said Halbherr. The platform learns about the individual and adds it to aggregate datasets, such as "what is there to do in Boston at 10pm after a football game".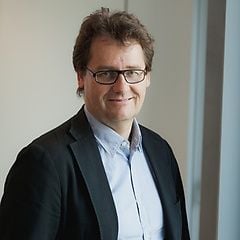 Nokia EVP of Location and Commerce
Michael Halbherr
"It's a large-scale machine-learning problem," he said.
Halbherr arrived at Nokia in 2006 with the acquisition of mapping company Gate5; he has an engineering PhD, so when he talks about AI it's in rather more grounded terms than what you might hear from other top tech execs.
If you think about how search engines started rating web pages – first by primitive keyword counts, then by Google-like page ranking – then it's a natural progression. But you need a lot of data to do this, said Halbherr: "Where do people go at 10pm after a movie? It's about building up these kinds of connections."
Nokia isn't alone in building these "placegraphs" or "human motion graphs" – but it is alone in seeking to share them with all-comers, which include rival handset makers. "Meaningful recommendations need deep analytics," he told us.
Before going on to the implications, let's clarify what Nokia is actually doing.
Similar topics