We don't think Richard Gere is going to like this one bit: Google appears to have rather carelessly mislaid the whole of Tibet, the once independent state turned autonomous region of China.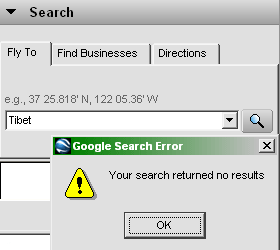 As a quick query on Google Earth confirms, Tibet is conspicuously absent from the search monolith's database, which comes as something of a surprise since even Beijing decided to call the place the Tibet Autonomous Region (TAR) after its military occupation of the country which began in 1949.
The rest, as we all know, is history. While the Tibet issue has become one of Hollywood A-listers' pet causes célèbres and an ongoing source of indignation to lovers of democracy worldwide, the Chinese have got on with the business of dragging the country kicking and screaming into the 21st century (the Chinese version) or systematically raping and pillaging a once beautiful land (according to the pro-Tibet lobby).
The key to China's development of Tibet is its military presence there. Opponents of the regime reckon there to be anything up to 500,000 People's Liberation Army (PLA) personnel in the region. Beijing says there are just three border guards and a small Yorkshire Terrier called Chairman Mao who acts as regimental mascot.
Well, we decided to go and have a look for ourselves - on Google Earth, naturally. And before we start our short tour of Tibet, be warned that before trying this at home, bear in mind that the place is bloody vast and background information is scarce and often wildly inaccurate, especially with regard to Chinese military facilities.
Another caveat: we're assuming for the purposes of our flight over Tibet that the country includes the Qinghai (Amdo to the Tibetans) province to its north-east, as claimed by some pro-Tibet forces: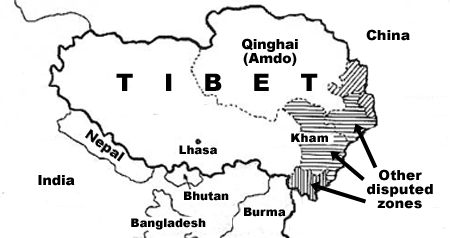 MAP