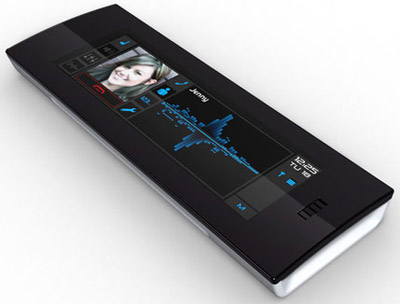 Spurned by Apple, which now makes its own iPod clickwheels, touchpad maker Synaptics today turned to mobile phone by touting a handset concept based around its ClearPad "optically clear, capacitive touchscreen", a gesture-based input system and a UI that adapts entirely to the needs of the application in the foreground.
Dubbed Onyx, the concept phone was co-designed with industrial design house Pilotfish, but the Synaptics intput device is clearly the star of the show, allowing any element of the UI to become an interactive control.
"The ClearPad accurately recognises not only points and taps, but also shapes, complex gestures, and proximity to the user's finger or cheek. This creates new possibilities such as assigning functions to two-finger taps, closing tasks by swiping an 'X' over them, sending messages by swiping them off the screen, or answering a phone by holding it up to your cheek. The prototype phone uses a dynamic UI, where applications are layered and opened simultaneously, allowing a seamless flow of information between applications," Synaptics said.
Building all this into a working phone is another matter, of course. But synaptics is presumably hopeful its concept is sexy enough to get the likes of Nokia, Motorola and Samsung on board.
Ironically, Onyx incorporates the kind of input features Apple's much-rumoured touchscreen-driven widescreen video iPod is said to support - and which Apple has attempted to patent. Indeed, it was speculated at one point that Synaptics and Apple would once again be working together on iPod input equipment. Maybe there's more to Onyz than meets the eye... ®