One of the architects of the original dot com bubble vowed to return to business yesterday, after a court approved a deal reached between his lawyers and state prosecutors.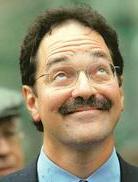 In a deferred prosecution agreement, former Credit Suisse First Boston (CSFB) banker Frank Quattrone will avoid a third trial for obstruction of justice charges if he avoids breaking any laws or associating with criminals for 12 months, and notifies the authorities if he moves house or leaves the country.
In March, the National Association of Securities Dealers (NASD) set aside a lifetime ban on Quattrone for refusing to appear on separate civil charges of "spinning" - the preferred allocation of IPO stock - undermining research analyst objectivity, and failure to co-operate with a NASD investigation.
"I plan to resume my business career," the former banker said in a prepared statement yesterday.
Quattrone has always pleaded his innocence on the spinning allegations.
He also denied later criminal charges that he obstructed an investigation into the spinning allegations by endorsing an email to his team to "clean up those files". Quattrone was found guilty of obstruction charges and sentenced to 18 months prison in 2004, a verdict overturned on appeal this year.
After successful IPOs at Morgan Stanley and Deutsche Bank, it was at Credit Suisse First Boston (CSFB) that Quattrone operated a "bank within a bank", overseeing a unit that spun pre-allocation stock to favoured individuals. "It was an unusual Wall Street arrangement," the New York Times later noted. CSFB paid $100m in fines to regulators.
In December 2000, a day after learning that a Grand Jury had joined an ongoing investigation into securities practices, CSFB managing director Richard Char mailed Quattrone advising that staff "catch-up on file clean up":
"Today, it's administrative housekeeping. In January, it could be improper destruction 31 of evidence."
The following day, Char emailed staff with the message, with Quattrone forwarding the message with a brief endorsement for emphasis. This became the basis for the prosecution in two trials.
The first was declared a mistrial after the jury failed to agree. The second saw Quattrone found guilty and sentenced to 18 months. Earlier this year, an appeals court ruled that "the evidence is sufficient to support Quattrone's conviction on each count", but was obliged to overturn the verdict citing the judge's directions to the court.®