Canon has launched the follow-up to its hugely popular digital SLR camera, the EOS 350D, bumping the new model's image sensor up to ten megapixels and adding a dust-busting technology to its internal workings.
The EOS 400D also sports a bigger LCD viewfinder than in predecessor: it's 2.5in in size and has a 160° viewing angle. The auto-focus has been improved, and the 400D will take twice as many shots in burst mode as the 350D could: ten RAW-format frames to five.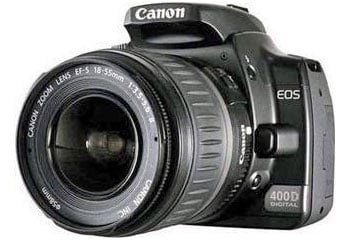 The anti-dust system centres on an anti-static filter on the sensor and a high-frequency vibrator, triggered when the camera starts up, to shake off any particles that have been picked up by the CCD. The camera starts up in a rapid 0.2s, by the way.
The EOS 400D ships next month for around £650/$799 (body only) or £720/$899 if you choose the version with a bundled 18-55mm, f/3.5-5.6 zoom lens. ®
Related reviews
Olympus E-500/EVOLT E-500 8mp digital SLR
Panasonic DMC-FZ30
Sony Ericsson Cyber-shot K800i photo phone