Plextor this week launched what it claims is the world's smallest DVD writer, a slimline external unit aimed at notebook users. Weighing in at just 250g, the drive is a mere 1.6cm high and barely bigger than a disc.
The PX-608CU supports all the many DVD recordable and rewriteable formats, including dual-layer media. Speeds range from 4x to 8x. The drive will also burn CD-R/RW discs at 24x. There's 2MB of buffer memory on board.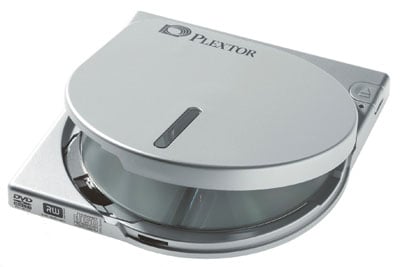 Plextor's baby connects to a host computer via USB 2.0, and since it's bus-powered there's no need to lug a separate AC adaptor around.
The company also launched an ATAPI-connected internal version of the drive, called the PX-608AL. It has a slot-load mechanism - the external drive pops open like an old-style portable CD player. Both drives come with a two-year collect and return warranty, Plextor said.
Plextor did not disclose pricing, but it did say the drives will ship in October and be made available through its dealer network. ®
Related reviews
Pioneer BDR-101A internal Blu-ray disc burner
Samsung SH-B022 Blu-ray Disc writer