Review It's now well over five months since we reviewed the pre-production version of Samsung's Blu-ray drive and there's still no sign of retail units. Fortunately, if you really must have a BD drive for your PC right now, Pioneer has the goods and you can have one today - if you can afford it...
The Pioneer BDR-101A looks very ordinary and but for the Blu-ray Disc logo on the middle of the tray, there's nothing to give away that this is actually a cutting-edge drive. Pioneer could really have done a better front bezel design, especially considering how much you have to pay for the pleasure of owning one of these drives. You do at least get the choice of beige or black.
The rear of the drive brings back memories from the early days of DVD writers, as the BDR-101A has a small fan fitted to it. However, this never seemed to spin up during the time I used the drive and if it did, it was very quiet. There's the standard four-pin Molex connector for power, a jumper block for drive settings and analogue audio outputs. A pretty standard drive in other words.
The Pioneer drive, as with the Samsung, uses IDE. Considering that Intel has completely abandoned IDE in its latest chipsets, this seems like a poor start for Blu-ray drives. It looks like Lite-on may take the lead with its SATA-connected internal BD drive.
But it's the internals that count, and the BDR-101A is very heavy compared to most current optical drives. This could have something to do with the fact that is has two optical assemblies. The Blu-ray laser can't read or write red-laser DVDs, and as there's no single-head solution so far that supports both technologies, a dual-laser set-ups is the only way to go. Until recently, there were no dual-format chipsets either, so it's no surprise the BDR-101A has one each for BD and DVD duties. The two formats have separate buffer memories too: 8MB for Blu-ray and just 2MB for DVD.
The BDR-101A supports BD-R and BD-RE - that's the re-writeable media - and will burn both types at 2x, which equates to 8.99MBps. This is slower than the 8x DVD±R writing performance of the drive, which is 11.08MBps. It's a shame that the DVD writing components are very much last generation and DVD±RW speeds are even slower, just 4x. The Pioneer will also burn DVD+R dual-layer media at 2.4x and DVD-R DL media at 2x. Not exactly impressive considering how much this drive costs. So don't throw away that super-multi DVD writer yet, especially not if you want to write to DVD-RAM media, as the BDR-101A doesn't support this format at all.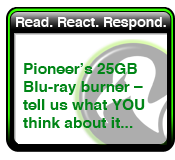 Writing 12GB of data to single-layer TDK BD-R and BD-RE discs took 24m 27s and 24m 40s, respectively, so filling up a 25GB disc will take around 50 minutes if not a little longer. Moving on to DVD media - we used Verbatim discs for these tests - putting 4GB onto a DVD+R disc took 10m 38s, and 10m 12s on a DVD-R. This didn't surprise me as Pioneer has always promoted DVD-R over DVD+R. Filling a DVD-RW disc with the same amount of data took 14m 28s. None of these results are exciting when compared to the latest generation of DVD writers, but the Pioneer is definitely a step up from the Samsung drive, which didn't have DVD writing capabilities at all.
The BDR-101A test unit was supplied by CD Team, which charges £699 for it. You should be able to find it cheaper if you shop around, but UK stock levels seem to be quite limited. The point is, for that kind of price we'd have hoped the drive would provide top-speed DVD writing as well as next-generation format support.
For the £699 that CD Team charges for the Pioneer BDR-101A, you could buy 2TB worth of hard drive storage if you go for hard drives, which goes to show that it's expensive to be an early adopter. And if you're the kind of person who really needs this technology - you're mastering BD-ROMs and PlayStation 3 media, say - you've little choice but to cough up what Pioneer and its suppliers are asking. Even then you may prefer to wait for a drive that can cope with dual-layer BD-R/REs - the Pioneer BDR-101A certainly can't.
Verdict
Pioneer is one of the first companies to get a Blu-ray drive into retail, but it's BDR-101A offering is terribly expensive, doesn't support 50GB media, and if you intend to use the drive's DVD writing capabilities, it's much slower than a cheap-as-chips DVD-only burner.
However, the BDR-101A does offer 25GB of storage on a single disc, currently unmatched by other optical storage formats. But it's early days yet and we're still waiting to see what's on offer from the HD-DVD camp. ®
Related review
Samsung SH-B022 Blu-ray Disc writer
Sponsored: Webcast: Ransomware has gone nuclear

Pioneer BDR-101A internal Blu-ray disc burner
Only PS3 developers need apply...