This article is more than 1 year old
Nokia N93 camcorder phone
First-person shooter
Review Nokia wants us to give up our cameras and embrace the future, as they see it, of integrated devices - those being mainly Nokia devices, obviously. The N series have been squarely aimed at achieving that and with the N93 they have certainly taken a step in the right direction. The N93 is Nokia's new flagship camera phone, so how does it line up against to the competition?
The N93 takes its photographic capabilities seriously, to such an extent that the phone sometimes feels as though it has a small video camera mounted on top - which effectively, it has. The camera might be a little bulky, but that space is needed to house a 3.2 megapixel device with a Carl Zeiss lens and, more importantly, a 3x optical zoom. The addition of a proper lens-cap further reinforces the seriousness, but is going to be difficult to replace when it - inevitably - gets lost.

In addition to the normal charger, a USB cable and a headset, the N93 comes with a cable to connect to a television - a rather unusual accessory for a Nokia phone, but not for other camera-phone makers, like Samsung. Once connected to a TV, the phone screen is automatically displayed, and photographs and video can be played back in glorious widescreen. Just in case any doubt remains in your mind that this is a proper video camera, a copy of Adobe Premiere Elements is included for editing films and burning them to DVD. Gary Oldman might have only managed two minutes of floating inner tube, but that shouldn't reflect on the tools available to budding movie-makers.
Video is shot at 640 x 480 resolution and 30 frames a second, but it's the digital video stabilisation which really improves the video quality over other devices. Even on a TV the quality is extremely good, certainly comparable with a dedicated video camera. Nokia's claim of DVD quality might be open to question, but that will depend on the skills of the operator too. Videos are stored as MPEG 4 files, which will play back in Real Player or VLC media player once copied onto a computer.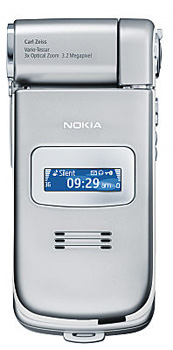 Still pictures are captured at the full 3.2 megapixel resolution and auto-focus ensures that at least the centre of the picture is always sharp. But the N93 does suffer from the picture-lag so endemic in Nokia camera-phones. Images are taken about half a second after the button is pressed. In many circumstances this isn't important, but when trying to catch that fleeting moment of family bliss, half a second can make an awful lot of difference. This lag is the most serious drawback in the N93 as a camera and it's remarkable that Nokia hasn't managed to find a way to make its cameras more responsive. It isn't enough to make the camera unusable, but it irritates every time.