This article is more than 1 year old
Nokia N93 camcorder phone
First-person shooter
Pictures and video can be displayed on the 240 x 320 screen, which runs to 262,144 colours with impressive clarity. The screen can be placed into one of three modes. Open like a normal clamshell - sorry, folding phone - propped up like a tiny laptop - aka display mode - and twisted to face away from the lens, what Nokia calls camera mode. Switching to display mode rotates the screen with a slight lag but without the instability which has plagued some models, like the E70. Moving to camera mode activates the camera - which shows nothing until the user remembers to remove the lens cap - but moving back to any other mode activates the smaller, user-facing camera for 3G video calling or taking low-quality pictures and video. Switching off the camera might make more sense, but that's not what Nokia have decided users want.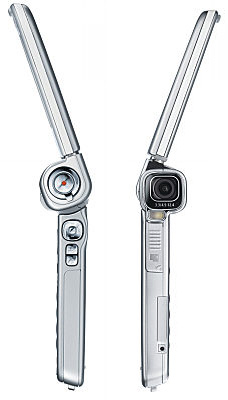 All that twisting and turning puts quite a bit of strain on the hinge, a single point of connection between the screen and the body, but in use it is remarkably robust and feels as though it should last. Rotating the display doesn't always work seamlessly as soft-keys need to be remapped, sometimes it's necessary to shift modes back again to complete a task or close a dialog which popped up in the previous mode. PDA users might also find themselves reaching for a stylus, particularly when using display mode, despite the fact that the N93 has no touch-screen or pen-interaction, it often feels like a PDA in use, which is no accident.
The inclusion of Quick Office and Adobe Acrobat means that opening work files is generally successfully, but until the disappointing lack of support for Bluetooth keyboards is remedied then editing those documents is tricky to say the least. Entering text of any kind when in display mode is, in fact almost impossible as the keypad is not rotated and becomes quite difficult to reach with the screen resting on the right-most keys, but this isn't intended as a laptop replacement.
With so many features it is sometimes difficult to remember that the N93 is actually a phone and that the most common use for it will be to make and receive phone calls. It does so without difficultly and an impressively aggressive vibration alert makes the ring tone almost superfluous, which is a shame as any audio track can be used. Call quality is all one would expect from Nokia, with good clarity and decent signal strength everywhere. 3G needs to be switched on - the handset comes set to GSM only& - but once selected worked seamlessly for data and voice. Using 3G data does seem to hammer the battery a little, more so than the equivalent Wi-Fi connection.
As an audio-playback device the N93 works well enough, with all the normal play list management capabilities and CD-ripping software included. The 128MB MiniSD card bundled with the device is woefully inadequate and anyone wanting to carry more than an album or two of music - or to shoot a lot of video - will want to upgrade. With a 1GB card costing around 25 quid there's little reason not to.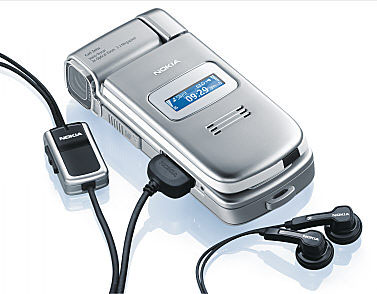 When an application requests a data connection all the available connections are listed, including any configured Wi-Fi networks which are within range and a 'Search for WLAN' option for an ad-hoc connection. Traditional GPRS links are listed too. Connectivity is a joy to use, working just as you would expect it to and automatically disconnecting Wi-Fi when the application which requested it is closed. Leave a Wi=Fi connected and the battery will fail within 12 hours - even if the connection isn't being used - but in realistic use the battery is as impressive as one has come to expect from Nokia. Wi-Fi range and stability is unremarkable, with secure and insecure access points working fine with decent speed and no dropped connections.