This article is more than 1 year old
Nokia N93 camcorder phone
First-person shooter
One of the most interesting uses of the Wi-Fi connectivity is Universal Plug and Play (UPnP), which allows media content to be rendered on a PC or other devices supporting the UPnP standard. Nokia bundles a UPnP server on the CD which comes with the phone - for Windows only - and once the software is installed it is just a matter of viewing an image, video or sound file on the phone and then selecting 'Show via home net' and a list of UPnP servers is presented, which should be only the one unless you're a very early adopter. Select the server and the content is immediately displayed on the PC screen or played through the PC speakers. No configuration of client or server is needed, everything just works. Well, nearly at least. Still images and audio worked fine in our tests, but we weren't able to get video to play back over UPnP at all and with no configurations to change it was hard to establish what the problem might be.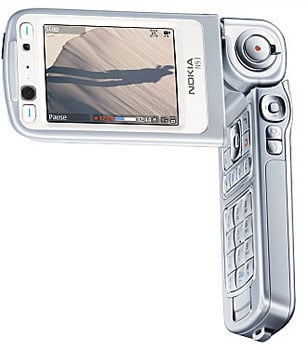 But even without video support UPnP is a welcome dose of simplicity and it seems likely that the technology is going to become more widely supported on set-top boxes and stereo systems. The very concept of screens and speakers around the house being resources available for the phone to use is very attractive and points the way to the future.
Watching video therefore requires the files to be copied onto a PC which is easily done using the bundled connection software or just connecting the handset to a USB port as a mass storage device. Playback will need the latest version of Real Player as the bundled Nokia Media Player application seems incapable of rendering video at any kind of acceptable quality. The failure of the playback software reveals the real disappointment in the N93 bundle, Nokia PC Suite is still an abomination which works, fails and irritates in equal measures. The best thing you can say about it is that given the capabilities of the phone you shouldn't ever need to use it, though if you're planning to regularly synchronise with Outlook you'll need a fair dose of luck and some patience when it all goes wrong.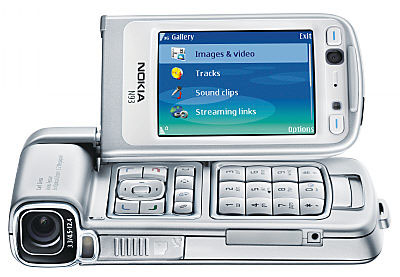 Without any network subsidy, the N93 is around 550 quid, a reasonable price for an entry-level laptop. Sign your life away and you'll get it a lot cheaper, but this is a very expensive bit of kit so make sure you can justify that price tag.
Verdict
The Nokia N93 is a really nice phone which, while trying to be a video camera, manages to straddle the divide with little compromise. Connectivity is all that it should be and battery life is days, not hours. Physically it is bulky and the Nokia PC Suite lets down the rest of the product badly, but the use of image stabilisation and a decent lens make it a true camera replacement as well as a usable phone, even if it is priced as much as a separate phone and camera. ®

Nokia N93 camcorder phone
Expensive, but a great video cam and not a bad phone either...
Price:
£545 inc. VAT unlocked; carrier pricing will depend on contract RRP