Last week, you may recall, Rolling Stone reported Bob Dylan's views on modern digital production technology. It was so bad, the great man suggested, he that he couldn't blame people downloading it for free on the internet. That was all it was worth, he said.
But what's this?
In a commercial promo over on Apple's iTunes site, someone who looks like Bob Dylan can now be seen croaking away, intercut with the friendless silhouettes who represent iPod owners. If true, it's an astonishing, 180 degree turnaround.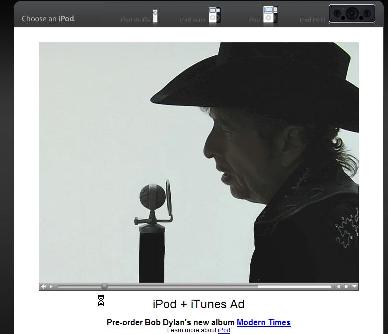 The answer seems quite simple. The analog Bob Dylan has been kidnapped, and replaced by a digital copy.
The analog Dylan hated digital recordings. The digital Dylan loves them! The analog Dylan thought you can download songs for free. The digital Dylan wants you to buy an iPod - and thinks one day, cities will be redesigned for the convenience of Segway scooters!
If this strikes you as implausible, it's not half as nutty as some of the theories Dylanologists hold dear. One school of thought suggests that Dylan staged the motorcycle "accident" in 1966 in which he broke his neck, which led to his seclusion for more than three years.
So perhaps the analog Bob knew of his impending replacement by a soulless digital Bob clone - and was simply trying to warn us.
Thanks to EV Garcia for providing us with the shocking truth. Your erudite views on modern production techniques will follow shortly. ®