Intel is ready to love promote the NetBurst architecture one last time, if it means giving AMD more competition in the high-end server market.
The big daddy of chips today released its "Tulsa" version of Xeon meant for high-end x86 servers with four or more sockets. Strapped with a mammoth 16MB cache, the new chip gives Intel a weapon to use against AMD's well-regarded Opteron chip. Such a response has been too long in coming given that two of Intel's most faithful Xeon customers - IBM and Dell - recently picked up Opteron for four-socket servers in order to satisfy customer demand.
On one hand, Intel is pretty damn excited about the dual-core Tulsa. The chip offers 70 per cent better performance than its predecessor Paxville and outperforms Opteron on numerous benchmarks (see chart). In many ways, the processor seems to erase AMD's claims that modern x86 chips really need a built-in memory controller to handle the serious software loads required of the four-socket space well.
In addition, Tulsa shows close to a 3 times performance per watt improvement over Paxville and has new tools such as Intel's Cache Safe Technology - aka Pellston - which helps keep things running smoothly when there's a cache error.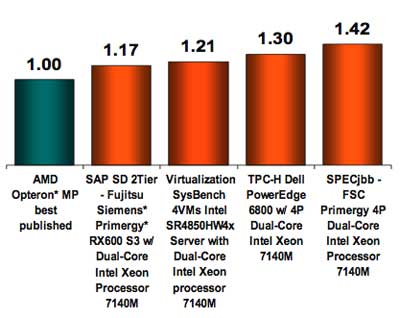 "We always had the expectation that we would regain performance here," Tom Kilroy, Intel's enterprise GM, told us. "Some of the benchmark results we are seeing are fairly stunning."
Tulsa, however, carries plenty of negative baggage with it as well via the use of the NetBurst architecture.
Intel has shifted most of its processors over to the "Core" architecture which has better overall performance and much better performance per watt traits than older NetBurst-based chips. Intel has spent a ton of money, time and effort hawking the "Core" movement, since the architecture is key to its revived attack against AMD.
So, it's understandable that Tulsa is not receiving as much love as it probably should - even from Intel.
"It deserves a little more attention than we seem to be getting - inside of the company at least," Intel engineer Jeff Gilbert said last week.
AMD has seized on the power-hungry nature of NetBurst chips.
"AMD firmly believes that customers are entitled to both high performance and low power consumption; the competition's 4P offerings on the market really only offer one," AMD said.
Intel has tried to counter the power concerns by releasing a wide variety of Tulsa chips. Customers will find a 4MB of cache, 2.5GHz chip (7110N) that consumes 95 watts and costs $856 in volume. Intel also has 2.6GHz and 3.0GHz versions (7120M/N) of the 4MB cache chip. In addition, Intel is selling 3.16GHz and 3.20GHz chips (7130M/N) with 8MB of cache, starting at $1,391.
At the high-end, customers will find 3.33GHz and 3.40GHz versions (7140M/N) of the 16MB cache chip starting at $1,980.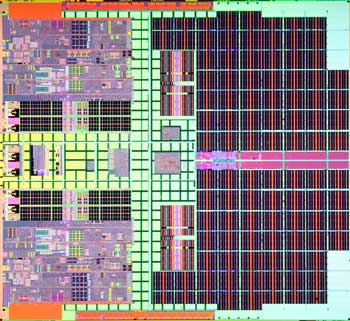 Intel reckons that Tulsa will keep its OEMs sweet until "Tigerton" arrives in the second half of next year.
"None of the OEMs that have decided to bring on Opteron have done so at the expense of embracing the 7100 Series (Tulsa) chips," Kilroy said. "We are very encouraged by the support we are getting."
Intel, however, cannot erase the fact that its Xeon struggles over the past three years have invited AMD into what is essentially a brand new market for the smaller chip maker. AMD has gone from holding close to 0 per cent of the x86 server processor scene to claim 25 per cent of sales.
In a sign of changing times, AMD can count all four of the Tier 1 server vendors as customers, while Intel - sans Sun Microsystems - only owns three accounts.
Both Intel and AMD expect four-socket servers to become more popular, especially with the rise of demanding virtualization software.
"Customers don't seem to know exactly what type of platform they'll use for their consolidation strategy," Kilroy said. "But our projection has been that consolidation is likely to occur around the MP systems, and we think that's still probably the case."
With Tulsa, Intel has managed to complete an overhaul of its entire server processor line. Earlier this year, Intel shipped a new dual-core version of its Itanium processor code-name Montecito and, more importantly, shipped the Core-based Woodcrest version of its Xeon chip for the large, two-socket server market.
The company hopes to slowdown AMD's terrific run over the past 18 months and seems likely to do so. The question with Tulsa remains as to how customers will receive Intel's performance claims and its old architecture in the four-socket market. ®