LG has tacitly confirmed Nvidia's plan to roll out a revised version of the GeForce 7900 GT graphics chip with built-in support for the HDCP anti-piracy technology. The South Korean company today launched a PC fitted with the Nvidia chip and the 'world's first' 4x Blu-ray Disc writer.
LG's internal Blu-ray burner is dubbed the Super Multi Blue, but it's the same GBW-H10N announced by LG's joint-venture with Hitachi, Hitachi-LG Data Storage (HLDS), a month ago. LG confirmed today the drive doesn't support dual-layer, 50GB media, and the 4x write speed applies to BD-R discs, not BD-REs, which are written at the now-standard 2x.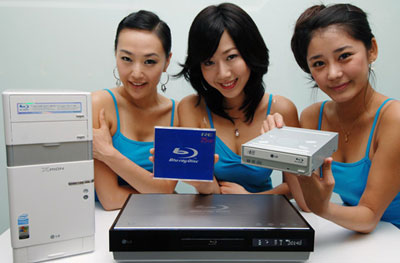 LG said its will build the GBW-H10N into its Xpion X600 PC range, which will also feature Nvidia's GeForce 7900 GT graphics chip, the "first graphics chipset incorporating High-Bandwidth Digital Content Protection (HDCP), the standard for protecting copyrighted content". LG didn't say so, but it's a good bet the PC has an HDMI port too.
As yet, Nvidia hasn't announced the HDCP-native 7900 GT, but details of the part's existence leaked out last month.
HDCP (High-bandwidth Digital Copy Protection) ensures both sides of an HDMI high-definition audio/video connection are secure. The technology isn't mandatory for HDMI, but content providers can choose to downgrade HD material to sub-standard definition across links that can't be trusted. In other words, if you want to guarantee you get HD content, you need to ensure your equipment supports HDCP.
The X600 is based on a 3.4GHz Pentium D 945, 1GB of DDR 2 memory and a 320GB hard drive. It's also got a 14-in-one memory card reader, LG said.
The company also said it would shortly ship the GBW-H10N in Korea and major European markets. ®