Hubble has snapped yet another stunning picture of a not-too-distant part of the galaxy. This time, the relatively nearby supernova remnant known as Cassiopeia A (Cas A) poses nicely for the camera, revealing intricate details of the remains of the star.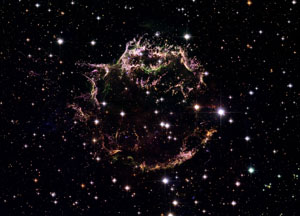 The picture has been built from 18 separate images taken by Hubble's newly restored Advanced Camera for Surveys. It shows the stellar material thrown out by the explosion glowing in the heat generated by the shockwave from the supernova blast.
The image is false colour, with the colours indicating predominant chemical composition. Green, for example, indicates areas rich in oxygen, while red and purple show sulphur, and blue represents hydrogen and nitrogen-rich zones.
Hubble has shot Cas A twice in the last year, at nine month intervals. The remnant is so young, that even this short space of time is enough for the images to be different. NASA says the expansion of the debris is clear to see in the second snap.
A faint string of debris in the upper left side of the remnant is moving away from the rest fast enough to get from the Earth to the moon in around 30 seconds.
And yes, we wrote this whole blurb just because we liked the picture. Enjoy. ®
Bootnote: In response to reader requests, a full sized image can be found here.