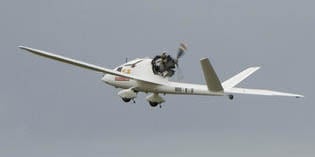 The UK is examing the possible deployment of Unmanned Aerial Vehicles (UAVs) within 10 years across Britain's airspace for a range of civilian tasks including traffic control and environmental monitoring, The Guardian reports.
UAVs cannot currently operate in UK skies, except in "restricted conditions". Accordingly, the government has pumped £32m into Astraea - "a national programme that focuses on the technologies, systems, facilities and procedures that will allow UAVs to operate safely and routinely in the UK".
The potential operation of UAVs is "fraught with difficulties such as avoiding other aircraft and communicating with air traffic control systems", The Guardian notes.
Astraea chief exec Simon Jewell said: "Every regulation for flight has been written on the assumption that a man would be in the cockpit. You have to go back to first principles to explore every aspect of controlled flight and then what is needed to be different to make it safe for unmanned flight."
Once Astraea has tackled the thorny problems of making UAV operation safe and reliable, the technology can then be released into the wild.
Jewell said: "UAVs are low-cost vehicles which then allow you to put on to them an array of different facilities. The commercial market will determine what those facilities are. This will grow over the years as confidence in them grows."
Suggested uses for UAVs include crowd and traffic monitoring, allowing firefighters to "spot blazes in remote locations" or they might even guide trawlers to shoals of fish off the UK's coast*.
Jewell also offered: "You could look at issues of environmental risk and damage. If there's an oil pipeline that has fractured in a remote area and it's spewing out oil, then you could have a UAV at high altitude very effectively looking for it, whether it's oil or gas or a chemical pollutant going into a river."
BAE Systems last year carried out the UK's first civilian UAV flight over Scotland, using its Herti (see pic above). The company is one of the partners in Astrea, which also include QinetiQ, Rolls Royce, the MoD, and several universities.
Astraea kicked off in earnest on 17 July with the signing of the contracts marking the "formal start of the Astraea programme's 16 work projects", which include "key technologies such as collision avoidance systems, communications, flight control, propulsion, autonomous decision making, health monitoring and affordability". ®
Bootnote
*Yes, we asked ourselves the same question: just how many fish will there be off Britain's coast by 2016?