Japanese get external internal hard drive cooler kit
Out of the chassis
Is your hard disk running too hot? Japan's Freedom PC has what it believes is the answer: a pair of 6cm fans mounted on a standard to which you fix your thermally troubled 3.5in HDD. You also keep the drive outside your computer's casing.
To help, the fan chassis comes equipped with a pair of fold-down stands. Power for the propellers comes courtesy of the drive's own power feed: the fans' power cable hooks into an adaptor that fits into the drive's own power port.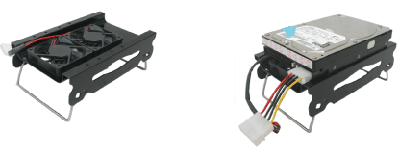 Since the unit works with any 3.5in HDD, you can bolt on either IDE or SATA drives then run power and data cables out of the back of your case and up to the external chassis. Why you'd want to is anyone's guess. We imagine it's cheaper than an standard external drive and faster too unless you're an eSATA buff. Bit untidy, mind.
Japanese speakers can learn more at Freedom PC's website. ®