Mag moots March '07 PSP redesign
Sony handheld to become PSP Lite?
Sony fanboys and PlayStation Portable owners are all getting hot under the collar over a claim made in the US PlayStation Magazine that the consumer electronics giant is planning to ship a redesigned PSP next year.
Details are unsurprisingly sparse. The gist of the move appears to be a cosmetic revamp to make the device more desirable to new buyers and existing customers and to allow Sony to incorporate cheaper components such as a slot-loading UMD drive, for example, which would be less fiddly to fit than the current hatch unit - and easier for consumers to operate.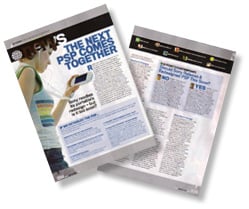 The article also hints at the inclusion of 8GB of Flash memory, though the suggestion is derived from rumours spun on the web, and the integration of an EyeToy-branded webcam.
It's also claimed that Sony wants to couple the PSP tightly with the PS3, and we can see the company tweaking the portable console's firmware to encourage its use alongside the next-generation machine no matter what it does the the handheld's hardware. It's already clear that the PS3's user interface owes plenty to the PSP's, reinforcing the 'in the home'/'out of the home' pairing of PS3 and PSP.
If PSM is right, the redesigned PSP will debut in Japan in March 2007. The move's not without precedent: Sony can't help but have seen how successfully Nintendo has revamped the DS with the DS Lite, not to mention Apple's ability regularly to revive the iPod market with new-look music players. ®