Nvidia GeForce 7100 GS slips out
Quiet launch
Nvidia has quietly rolled out the GeForce 7100 graphics chip family at the bottom end of its GeForce 7 series of GPUs. For now, though, there's only one member - the 7100 GS - but at least three card companies have announced boards based on the part.
The 7100 GS contains four pixel shaders like the GeForce 7300 LE. Both chips connect to DDR 2 video memory across a 64-bit, single-channel bus and clocked to 600MHz. However, while the 7300 LE's core runs at 450MHz, the 7100 GS is clocked to 350MHz.
That yields a fill rate of just 1.4bn pixels per second. The chip can process 263m vertices each second.
Boards based on the 7100 GS fit into a PCI Express x16 slot and provide DVI and HDTV outputs. The cards are compatible with Nvidia's SLI multi-GPU technology.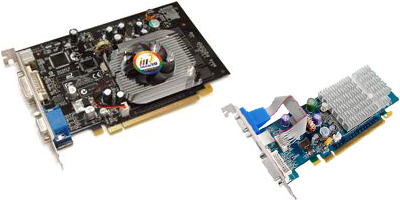 Among the companies who've already announced 7100 GS-based boards are PixelView, which is shipping a card with 128MB of memory expandable to 512MB using system RAM accessed by the chip's TurboCache technology. Sparkle announced a similar product, as did Inno3D. ®