Samsung's 4G outpaces WiMAX
For the man on the Korean omnibus...
On a bus fitted out specially for the occasion in Jeju this week, Samsung demonstrated a new version of 4G technology transferring data at speeds of 100Mbit/s.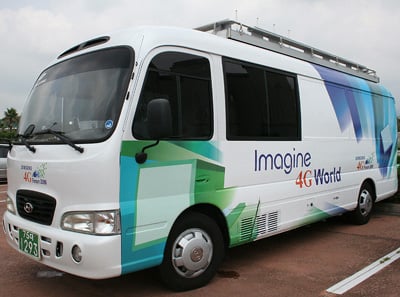 The bus was moving at 60kmph - which you rarely see in real life - but it was proof enough, the Korean giant boasted, as the demonstration included handover between cells. 1Gbit/s is 50 times faster than the current Mobile WiMAX specification, 802.16e. At walking pace, the demonstration moved bits at 1GB/s.
Samsung has been a strong advocate of 802.16e, preferring its own flavour, WiBRO, since backed by the US government. And despite the lack of a settled standard, or the prospect of certified equipment before next year, it received some encouragement recently.
When Sprint Nextel opted to go for a nationwide mobile WiMAX network, it annointed Samsung as the primary infrastructure supplier. No surprise there - Samsung is the leading technology supplier to the WiMAX triumverate that also includes Intel and Motorola. The decision was a blow to Qualcomm's Flarion division - Sprint had originally trialed Flarion's Flash-OFDM technology.
But Sprint's decision is no harbinger of how the 4G battle will be decided. Nextel has always been the odd man out, as one of the few networks in the world to opt for Motorola's iDEN technology in preference to GSM or CDMA. Operators are likely to plump for the path which promises the lowest capital investment: which for W-CDMA operators means Super-3G, and for CDMA operators means CDMA or Flash-OFDM.
The ITU wants the spectrum allocation for 4G, or what it calls IMT-Advanced, to be settled next year. ®