Sony to bring Sports Walkman MP3 player to Europe
Workout-friendly, company claims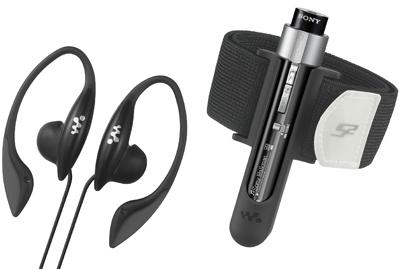 Sony has said it will ship its upcoming Sports Walkman-branded MP3 player line-up in Europe in September. The tubular device, which will ship in 1GB and 2GB versions, was announced in the US earlier this month.
The two European models are the NW-S203F and the NW-S205F. Both feature jogger-friendly features like a pedometer, a calorie-burn counter and a system that flips between two playlists - Walking and Running - according to your pace. The motion sensor that drives these functions is also used to control the player: shake it three times and it automatically reshuffles your songs.
Sony also touted the players' three-minute fast-charge time, though it will only yield three hours' playback time. If you want the full claimed 18-hour duration, you need to charge it up for 45 minutes, the company admitted.
Over here, the Sports Walkman range will be offered in three metallic colours: black, pink and silver. Every model has an integrated FM tuner. Made from aluminium, the players are "seamless and water-resistant" Sony claimed.
Sony didn't say how much the players will cost, but we'd expect the 1GB model to be priced around £75 and the 2GB version at around £99. ®