Japan's AKARI 'scopes out stellar evolution
Infrared sky survey
The Japanese infrared space telescope AKARI has sent back a raft of stunning new images of stellar evolution, from the earliest stages of star formation to the final death throes of stars in our own galaxy.
The observatory was launched in February this year and is about halfway through building its first infrared sky map.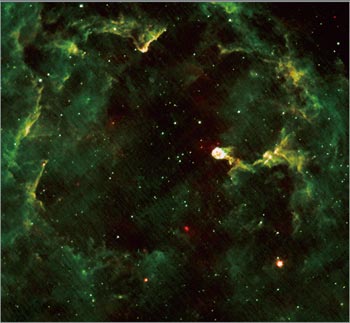 The image shown is of the reflection nebula IC 1396, otherwise known as the Elephant Trunk Nebula, a star formation region within the Milky Way, about 3,000 light years from our solar system.
Glenn White, professor of Astronomy at the Open University and The CCLRC Rutherford Appleton Laboratory, said: "This image is extremely impressive - the infrared radiation has penetrated through the obscuring dust clouds between the Earth and the nebula allowing us to measure the whole star formation history in the region. Observing star forming regions over large areas lets us study the physics of stars that are born and examine how earlier generations of stars can feedback to and trigger the next burst of star birth."
Very massive stars - around 10 times the size of our sun - are being born in the region. Young stars have cleared the central part of the nebula of its dust, sweeping it out to the periphery. A single, very massive star in the middle has also ionised much of the gas in the nebula.
A new generation of stars is forming in the compressed gas and dust, the researchers say.
As well as taking these images of a stellar nursery, the observatory's Far Infrared Surveyor has captured a red giant in the final stages of its evolution.
Located around 500 light years from Earth, the red giant U Hydrae is surrounded by a cloud of dust, making observation in the visible spectrum very tricky.
In infrared, this cloud can be more easily studied. The data from AKARI shows that the dust forms a shell around the star at a distance of a third of a light year, implying that the matter was ejected by the star approximately 10,000 years ago.
"Observations at infrared wavelengths provide a unique view of the final stages of the evolution of stars – in particular as they eject shells of dusty material which go on to seed future generations of star formation in the galaxy," said Michael Rowan-Robinson, professor of Astronomy at Imperial College, London.
"This ejected material spreads throughout the star forming clouds and may eventually be assimilated into a new generation of stars, enriching them with heavy elements. Observations like this help us understand what galaxies look like when seen from large distances.
The information will help astronomers understand the relation between mass and light in our own galaxy. This in turn is useful for studying and characterising more distant galaxies, which helps scientists learn more about how the universe evolved.
More pictures available here. ®